GRINNELL, Iowa – -(Ammoland.com)- Brownells Super Barrel V is here, giving Brownells customers their chance to win 14,000 rounds of Winchester 5.56 ammo – a retail value of more than $7,000.
Starting Wednesday, February 8, 2023, contestants can enter several different ways at the Brownells Super Barrel page for their chance to win the enormous barrel full of 55-grain FMJ ammunition.
By itself, the ammo weighs as much as 484 12-ounce cans of America's favorite macro brew or the equivalent of more than 500 bags of tortilla chips.
A range day with family and friends and this much 5.56 ammo would be way more fun than the biggest tailgate party in pro football history.
Entries will be accepted until 11:59 pm February 15. Then one lucky winner will be chosen to receive the enormous barrel full of Winchester ammunition.
For more information and a chance to win, visit the Brownells Super Barrel page.
What?" You never win anything or can't wait you can shop Brownells' in-stock rifle ammo online here.
---
About Brownells
Serious About Firearms Since 1939, Brownells is the world's leading source for guns, gun parts and accessories, ammunition, gunsmithing tools, and survival gear. With a large selection of both common and hard-to-find items, and an extensive collection of videos, articles, and gun schematics, Brownells is the expert for everything shooting-related. Committed to maintaining our great traditions, Brownells has more, does more, and knows more – and guarantees it all, Forever. For more information or to place an order, call 800-741-0015 or visit Brownells.com. Stay up-to-date with Brownells on YouTube, Facebook, Twitter, and Instagram.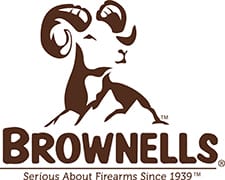 Some of the links on this page are affiliate links, meaning at no additional cost to you, Ammoland will earn a commission if you click through and make a purchase.