Run-of-the-mill 1911s…I can't say I love them.
I like them, but, let's be real, they offer few advantages for the hefty weight and low capacity.
My little Sig Sauer P365 holds more rounds and is less than half the size.
This conversation changes whenever someone brings up double-stack 1911s, though. Now that is a gun I can get behind.
The single-action trigger combined with a butt-ton of ammo in an all-metal frame is a great idea to me.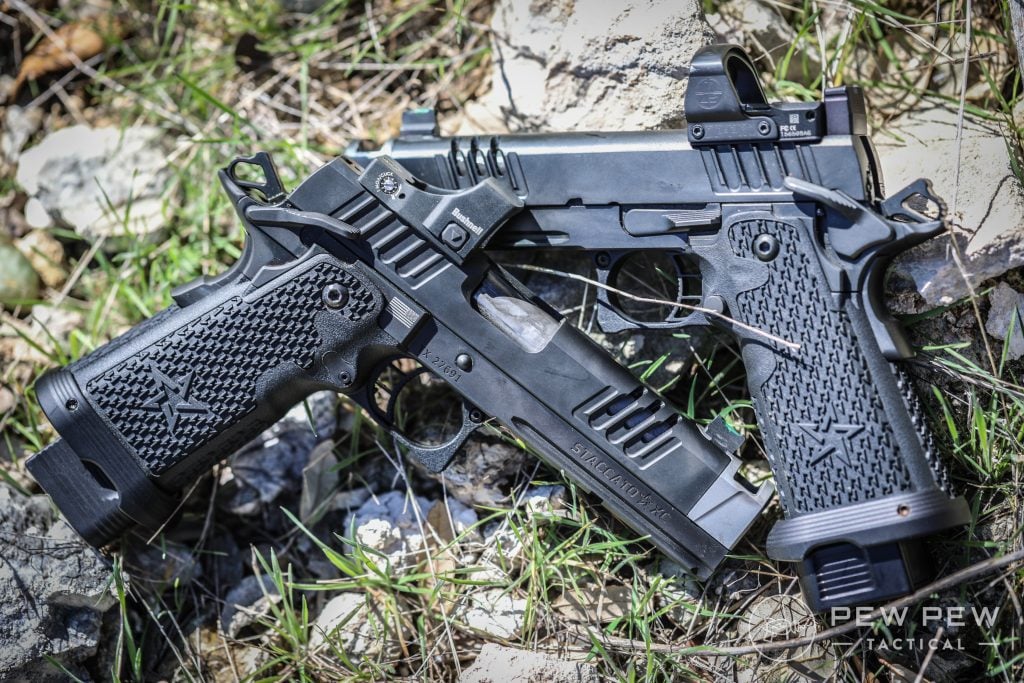 Double-stack 1911s are a niche weapon compared to striker-fired plastic fantastics. Even compared to normal 1911s, they are rare.
However, we've gathered the best of the best in the double-stack 1911 realm.
But before we dive into which models we think you should add to your wish list, we'll talk about why you would even consider a double-stack 1911.
So let's get to it!
Summary of Our Top Picks
Table of Contents
Loading…
Why a Double Stack 1911
The biggest reason to get a double-stack 1911 is because more bullets are better than fewer bullets, right?
Call it my machine gunner mentality, but I like having lots of rounds when the option is available to me.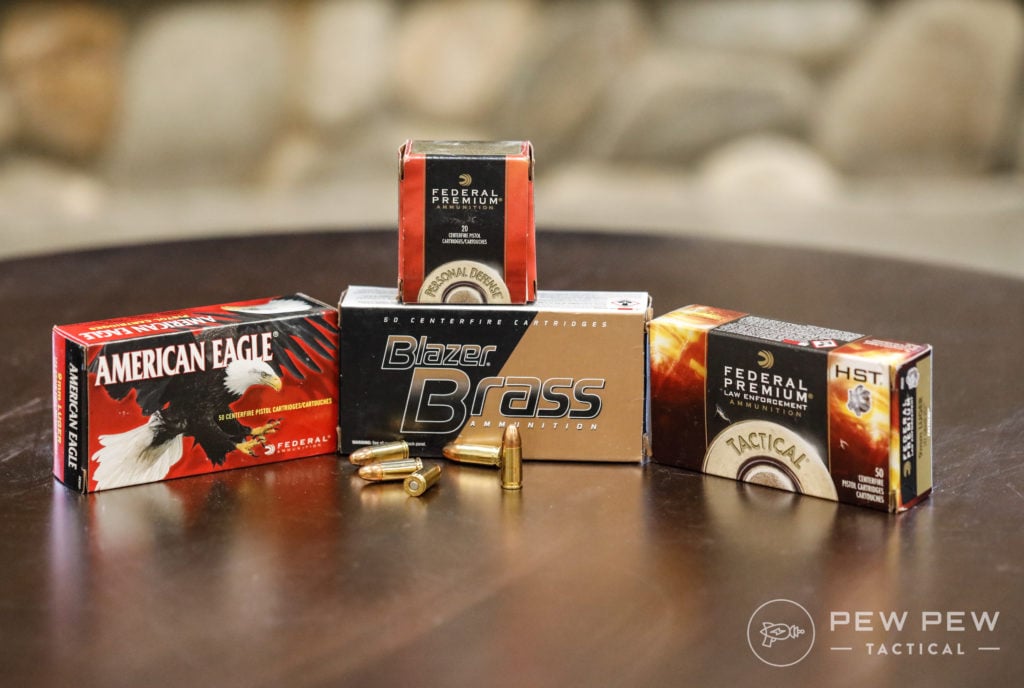 Double stack 1911s can hold anywhere from 13 to 21 rounds compared to your normal 1911s 7 to 10 rounds. That's a Grand Canyon-sized difference in capacity.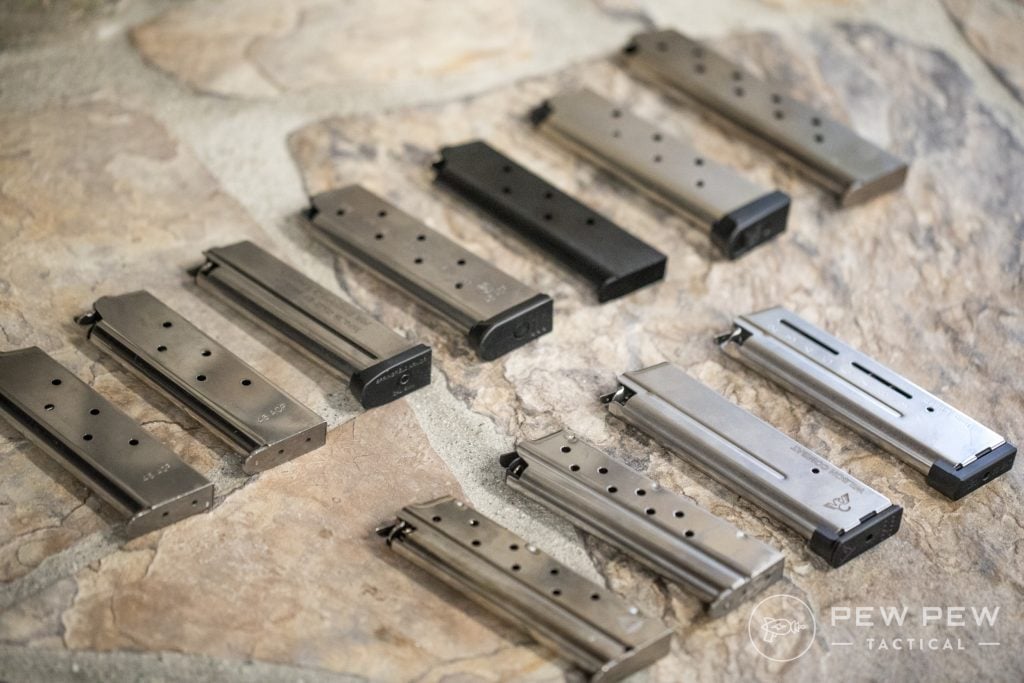 Now, you can say, well, other guns do that! Glocks, FNs, Walthers, you know all those big brand companies that produce striker-fired, polymer-frame pistols.
That's true, but outside of CZ, who does it with a metal frame?
Metal frames mean more weight. More weight means less recoil.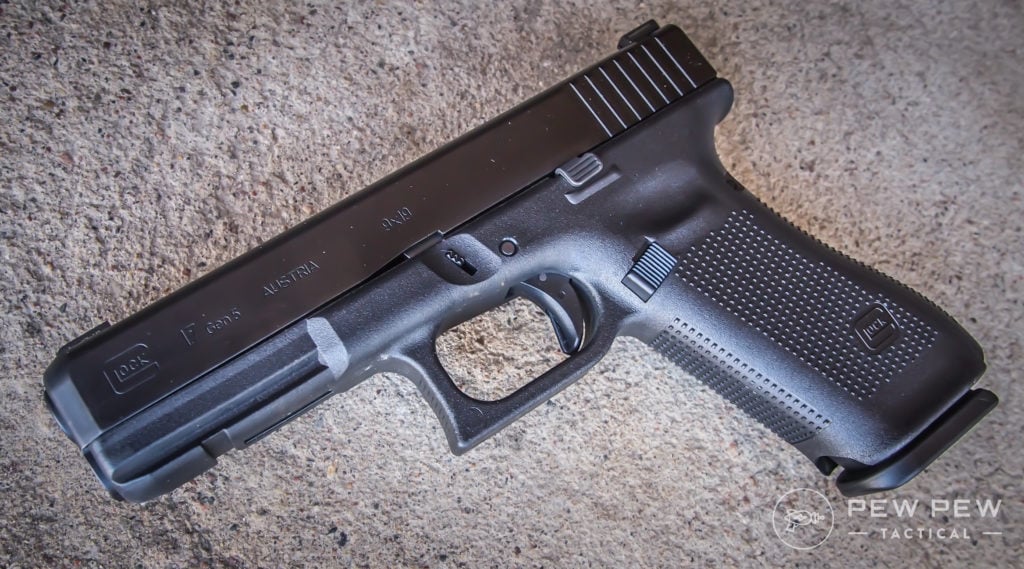 1911s are well known for their outstanding ergonomics. Everything is placed in the right position for easy access.
Let's not forget that sweet single-action trigger system. The single-action 1911 trigger is hard to beat, and the short pull and short reset make it oh-so-nice.
The wide grip may turn some off, especially if you are used to a classic 1911 grip or have small hands. To me, it's just more 1911 to love.
So now that I have you convinced you need one of these in your life let's talk about some of my favorite models.
Best Double Stack 1911s
1. Staccato P
STI was the company that really made double stacks a "thing." Since then, they have rebranded to Staccato, but the company is still building fantastic guns.
The Staccato P makes the list as one of the most approved for duty-use double stacks 1911s out there.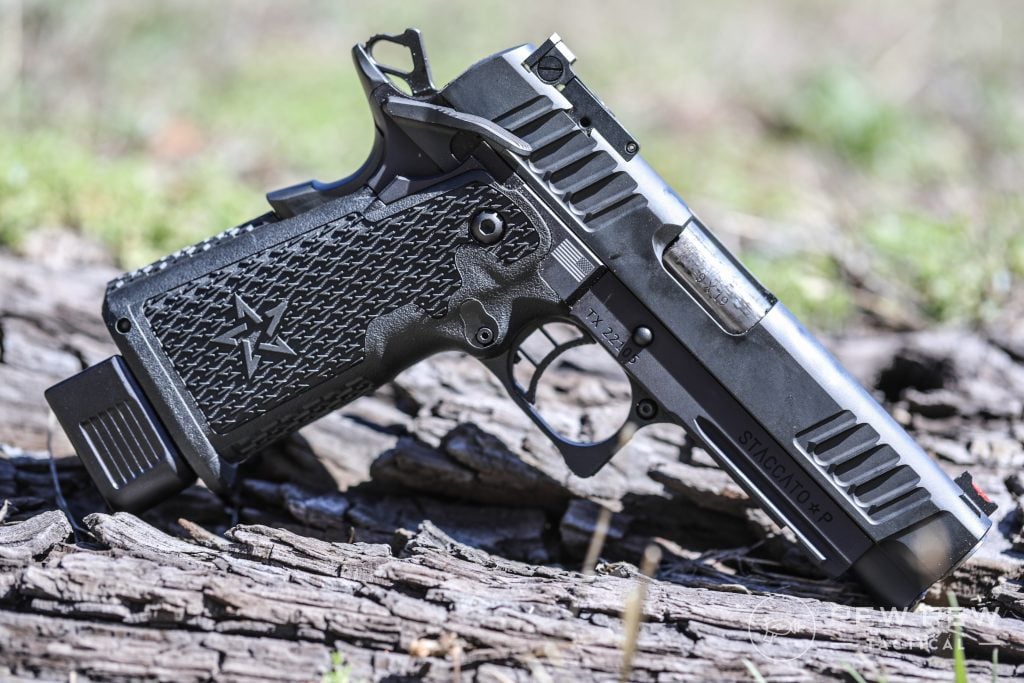 The Staccato P series was adopted by the US Marshal's Special Operation Group. The gun is approved for use by Las Vegas Metro, the Texas Rangers, and over 280 police agencies across the country.
Adorned with a 4.4-inch barrel and full-sized frame, the Staccato P is exceptionally handy. The all-metal frame eats up 9mm recoil like it's nothing.
Capacity wise, the gun includes two 17-round magazines and one 20-round magazine.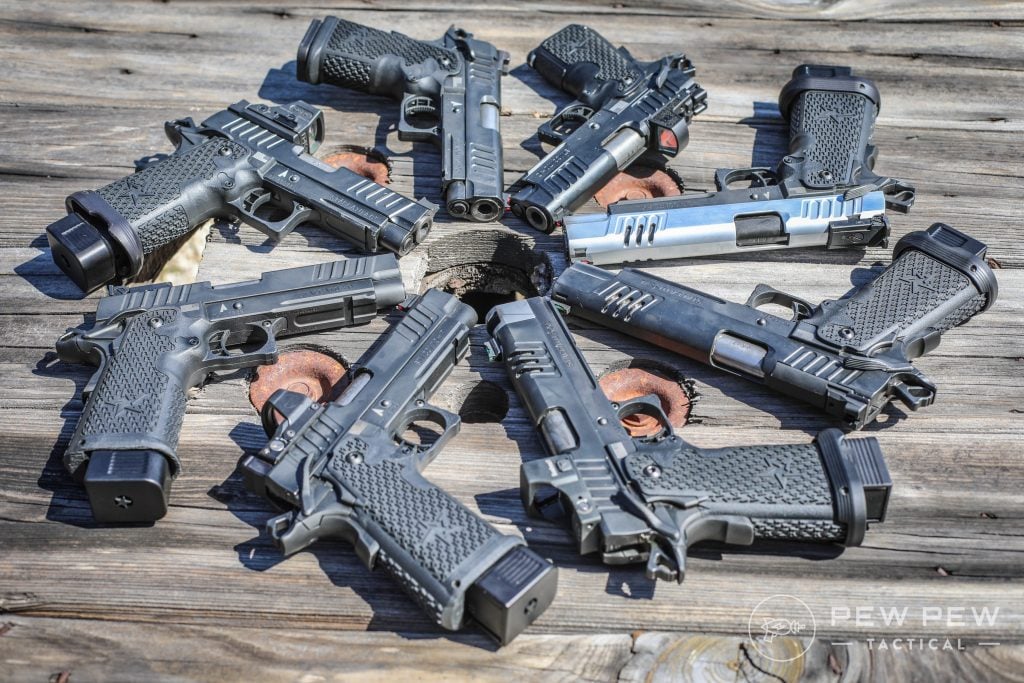 Shooting a Staccato P is like shooting a dream.
It's soft, easy to control, and the trigger is absolutely incredible.
It's very easy to see why John Wick chose a Staccato for the third Wick flick. The Staccato P packs all the features of a 1911 you know and love with the capacity of a Glock 17.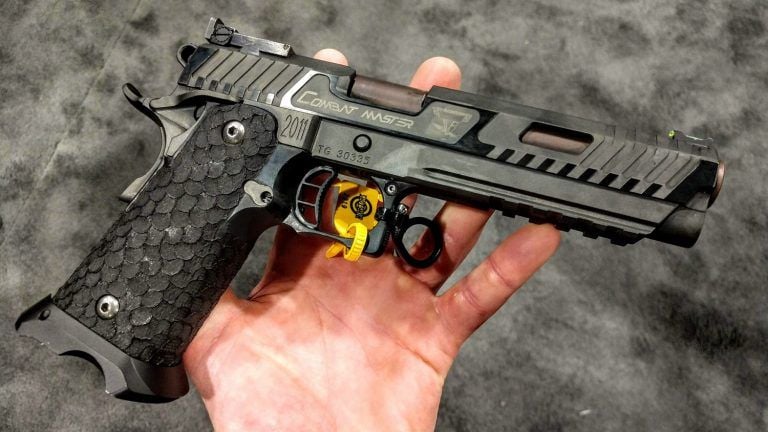 The Staccato P comes in both optics-ready models as well as standard iron sight options.
Staccato's optics-ready models utilize a plate system to work with several popular mini red dot options, including Trijicon, Holosun, and Leupold.
Don't forget the Picatinny rail for adding all the lights and lasers you love.
A mix of classic 1911 design and ultra-modern features makes the Staccato P the gun to beat for duty and tactical roles.
Best All-Around
2099
at Staccato
Prices accurate at time of writing
Prices accurate at time of writing
Looking for the extreme competition Staccato guns? Look no further than the XC and XL versions.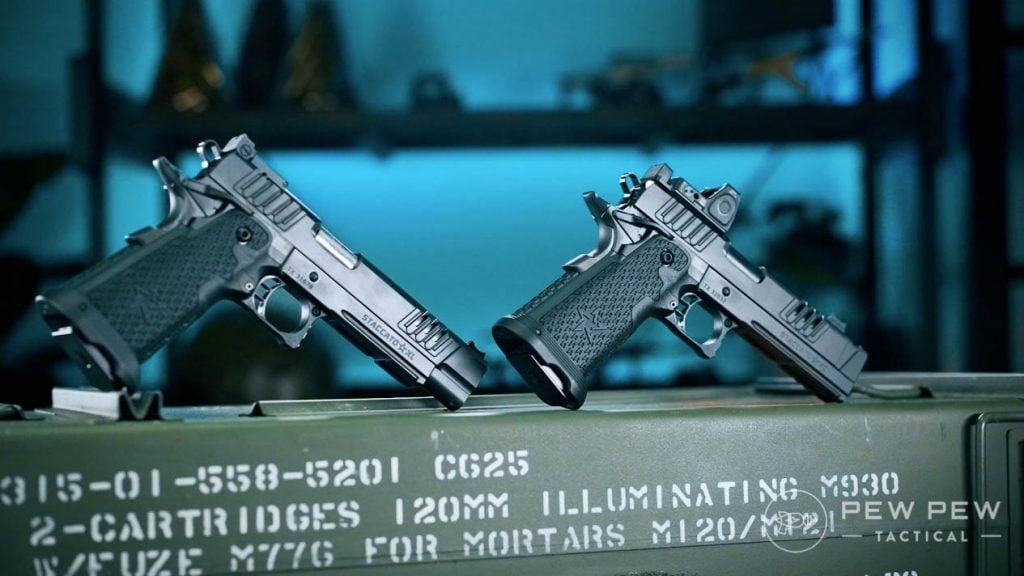 You won't believe how little the slide moves up and down even in rapid fire and with factory ammo. Check out some slow-motion here.
We have a full-on review and video of them in action.
Oh…but it's going to cost you!
4299
at Staccato
Prices accurate at time of writing
Prices accurate at time of writing
3399
at Staccato
Prices accurate at time of writing
Prices accurate at time of writing
Looking for their tinier versions made for carry…check out our full review of the C and C2 versions.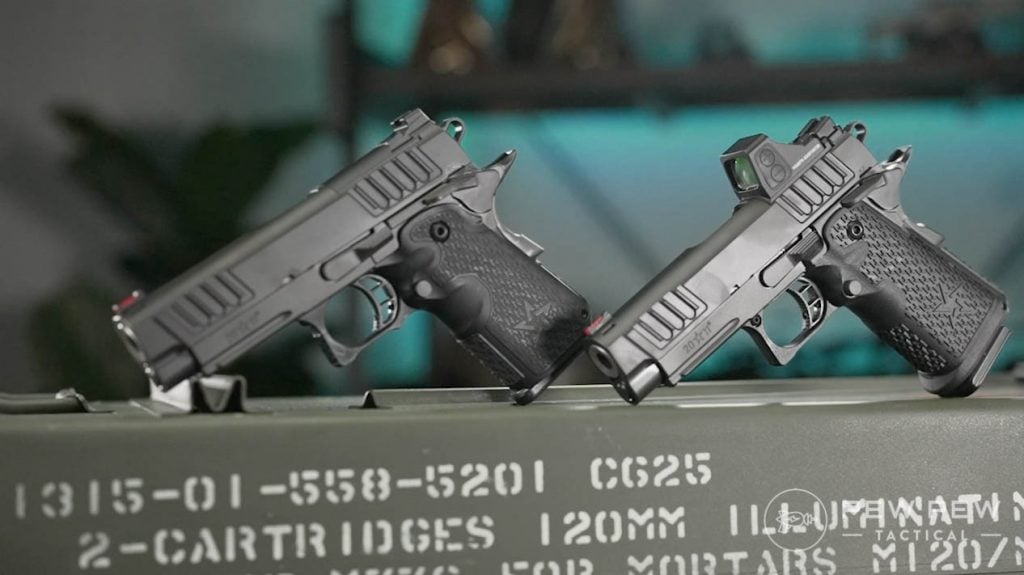 2. Rock Island Armory TAC Ultra Threaded 10mm
The MSRPs of the guns on this list are rather high — incredibly high, in fact.
They are priced high enough to drive many away from the concept.
Yet, Rock Island Armory is coming to save the day with its affordable line of double-stack 1911s in varying calibers.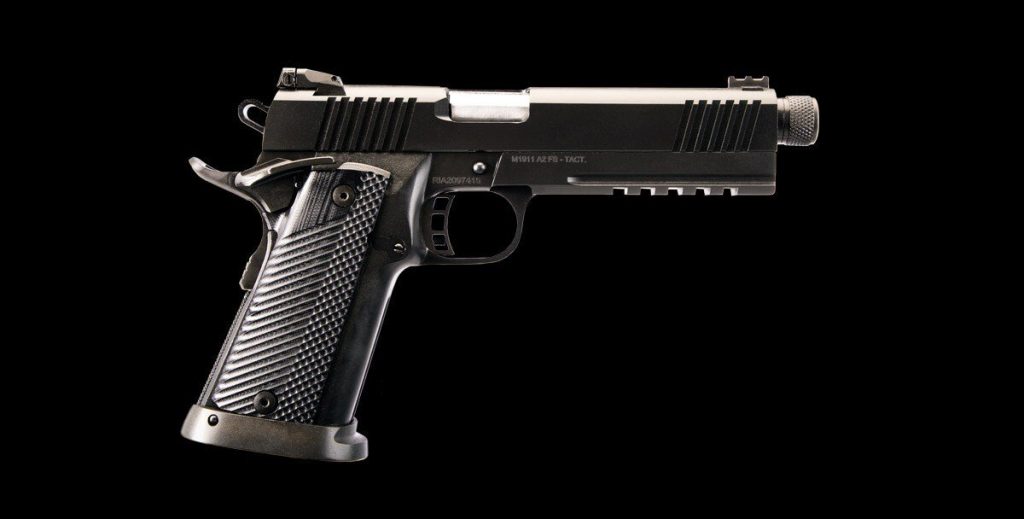 The absolute sweetest variant is the TAC Ultra Threaded 10mm.
This slick-looking blaster features a full-length rail, a 5.5-inch fluted and threaded barrel, G-10 grips, and an aggressive style that is all its own. Plus, it comes in everyone's favorite round, the 10mm.
The 10mm is a potent cartridge with a lot of power behind it.
In the TAC Ultra Threaded double stack 1911, you get 16 rounds of 10mm per magazine.
Popping a can on is ultra simple with the threaded barrel, and 10mm subsonic rounds exist.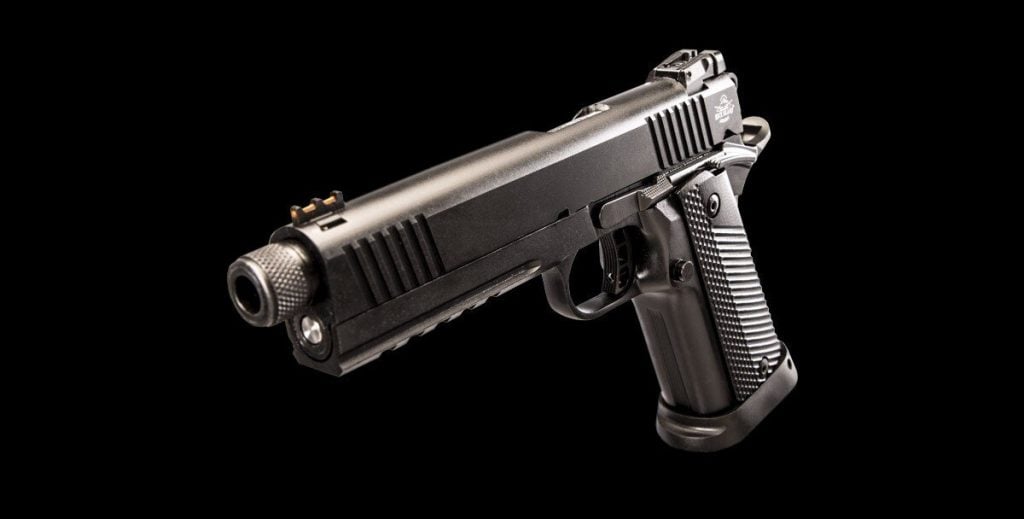 Alternatively, a compensator allows for more control over the mighty 10mm. Lots of powerful 10mm loads exist, and taming them is often challenging. A comp can help!
The TAC Ultra threaded is built on a series 70 design for a crisp trigger pull and satisfying reset.
Additionally, the TAC Ultra threaded packs a low-profile adjustable rear sight and a high-visibility front sight.
The TAC Ultra threaded 10mm is a hefty 2.7-pounds unloaded. As you'd expect, that weight helps keep the gun controllable.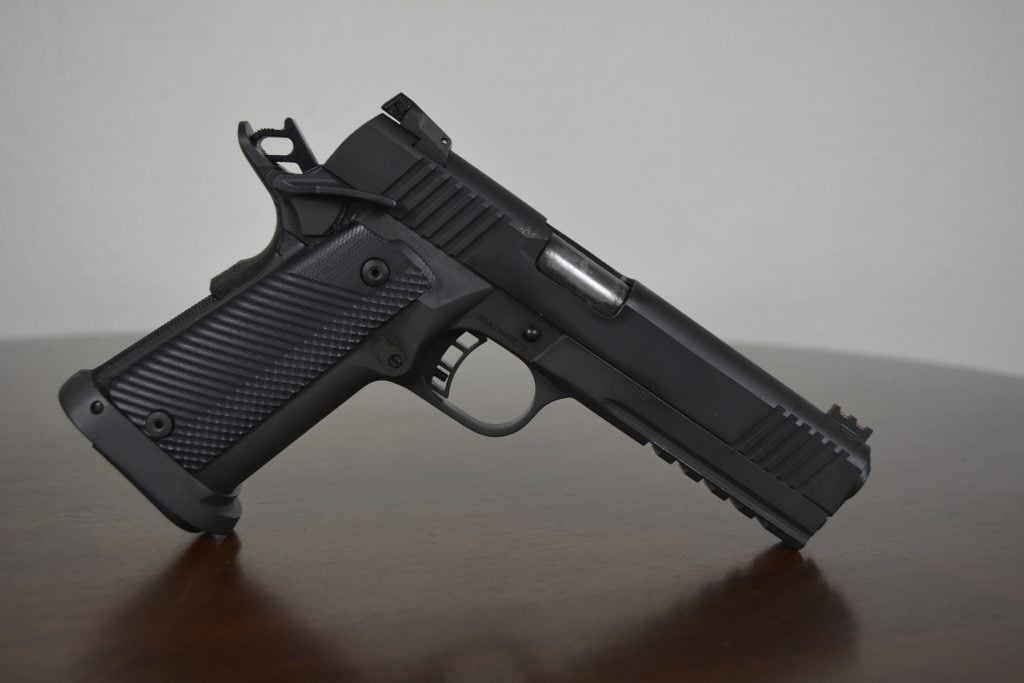 The Rock Island Armory series presents an affordable option for those looking to dive feet first into double-stack 1911s.
If you want a modern but within-reach design, the TAC Ultra Threaded 10mm is a great route to take.
Best 10mm
774
at GrabAGun
Prices accurate at time of writing
Prices accurate at time of writing
Have you tried the Rock Island Armory TAC Ultra? If so, tell us how you liked it by giving it a rating below.
3. Nighthawk TRS Comp
The Nighthawk TRS Comp was the first Nighthawk to work around a double-stack frame.
Nighthawk tended to stick to traditional 1911s, but the TRS Comp was a welcome departure.
TRS stands for Tactical Ready Series, and predictably, Comp stands for compensator.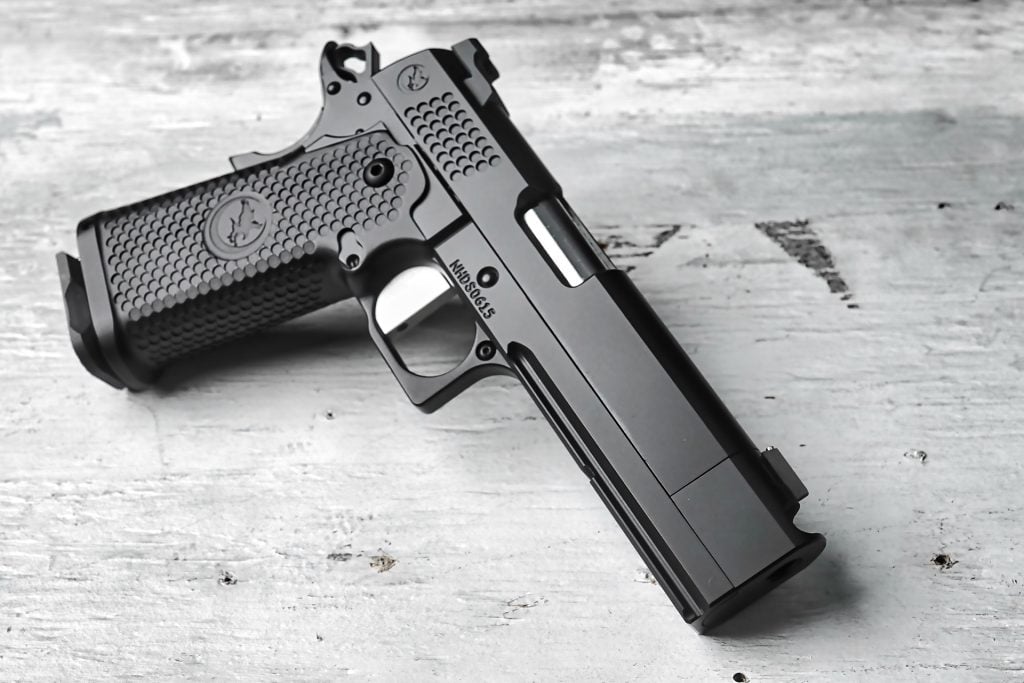 The compensator is something special. It's based on the Firehawk comp and integral to the frame and barrel.
Comps typically add some length to your gun, but this design keeps the length of a government slide with an integrated compensator. The compensator does not reciprocate with the slide.
Since the front sight is attached to the compensator, it doesn't move. Tracking the front sight of your gun has never been easier with this setup.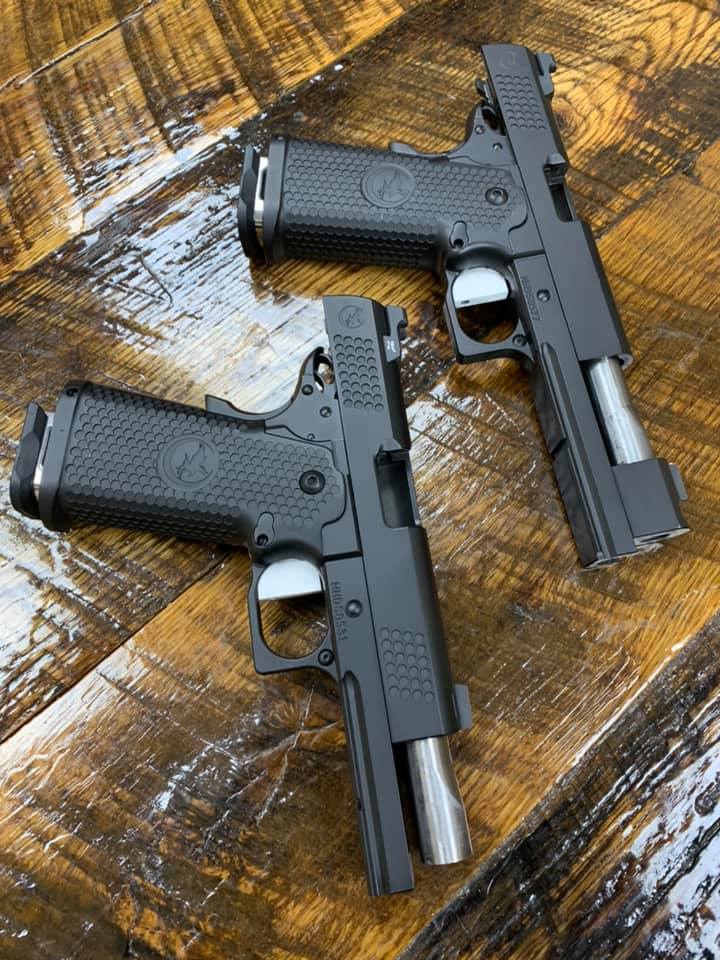 An 18K gold bead makes up the front sights, and it's highly visible in nearly all lighting conditions.
Plus, gold on a gun is always baller.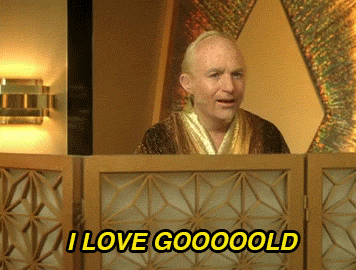 As a fan of the Firehawk, I'm an instant fan of the TRS Comp. The compensator design is truly brilliant and delivers an excellent degree of control.
Shooting it feels almost unnaturally easy, and the advantage is evident.
A 9mm 1911 is already easy to control. Make it a wider, heavier-bodied design and add a comp, and you get a real kitten at the range.
The TRS Comp packs 17 rounds of 9mm, Heinie rear sights, a slab side design, and a unique dimpled grip system.
Nighthawk's slick TRS Comp is perfect for a wide variety of roles. Home defense, competition, or just showing off at the range.
4599
at Rainier Arms
Prices accurate at time of writing
Prices accurate at time of writing
4. Chambers Custom PHAT WMG R Model
Chambers Custom is likely the smallest shop on this list, but that's far from a bad thing.
Small shops are often innovative shops, and the crew at Chambers Custom proves that with each design.
PHAT WMG is a mouthful and sounds like early 90s slang, but it's an acronym.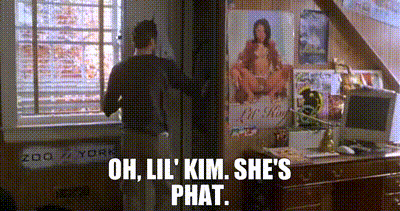 PHAT WMG stands for Pretty Hot and Tempting Working Man's Gun.
Joe Chambers builds these guns on his 2019 wide-body frame. This frame design is one of the innovative features Chambers has developed.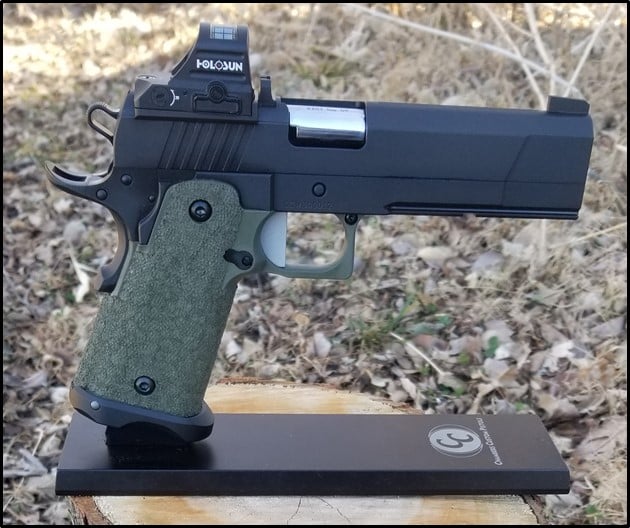 Chambers makes geometry changes to the classic 1911 double-stack magazine frame.
I'm not gonna have you doing the math, but these geometry changes make for a longer-lasting gun that's soft shooting and more reliable overall.
The PHAT WMG comes in either 9mm or .38 Super.
Its R Model is optics-ready and features the sexy slab side design that I personally adore.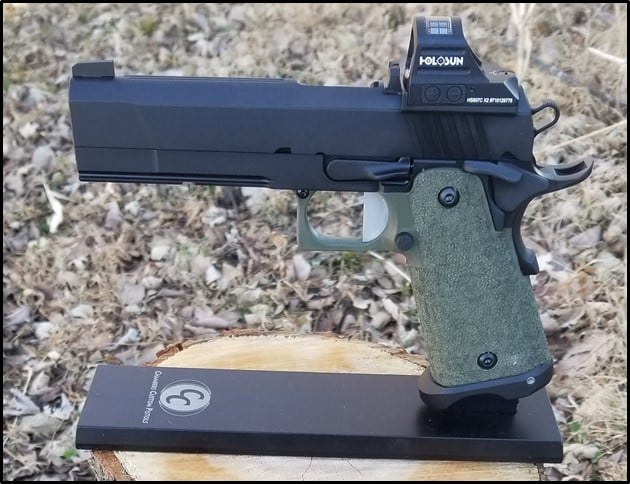 A rail allows for mounting lights, and a unique iron sight system co-witnesses with your optic of choice. Chambers Customs hand bevels the frame slide, and it presents a unique look you won't see anywhere else.
The PHAT WMG is a true custom gun outfitted with Chamber Custom parts almost exclusively. You get all the custom features you could desire.
Chambers Custom produces some outstanding 1911s, and the 2019 wide-body frame is tough to beat.
The end result is a superbly accurate, reliable, and easy shooting system for the most discerning of shooters.
5. Wilson Combat eXperior Compact Double Stack
All the guns on this list have been full-sized models. So, let's toss in a compact variant.
A Government sized 1911 is a hefty piece for concealed carry, but the Wilson Combat eXperior Compact Double Stack gives you a shorter and easier-to-carry option.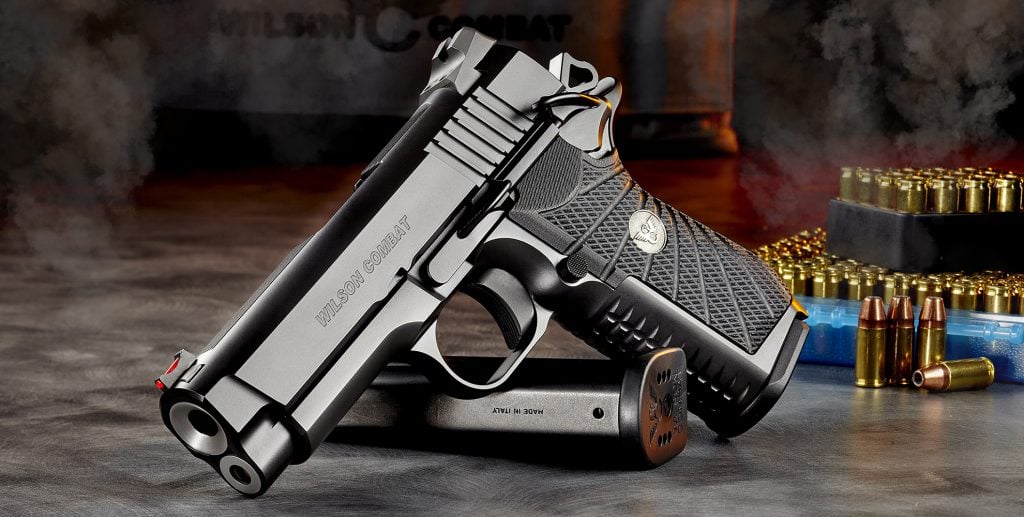 The eXperior compact comes in both 9mm and .45 ACP options. I'm personally gonna roll with 9mm if I had to choose.
The compact version features a 4-inch barrel and an unloaded weight of 30.5 ounces. The eXperior system uses the EDC 9 magazine that Wilson developed for their modern carry pistol.
You get 15 rounds of 9mm, and 18-round magazines are also available.
The eXperior compact is outfitted with a WC concealment hammer, carry cuts, and an accuracy guarantee of 1.5 inches at 25 yards. That's quite the claim for such a little gun.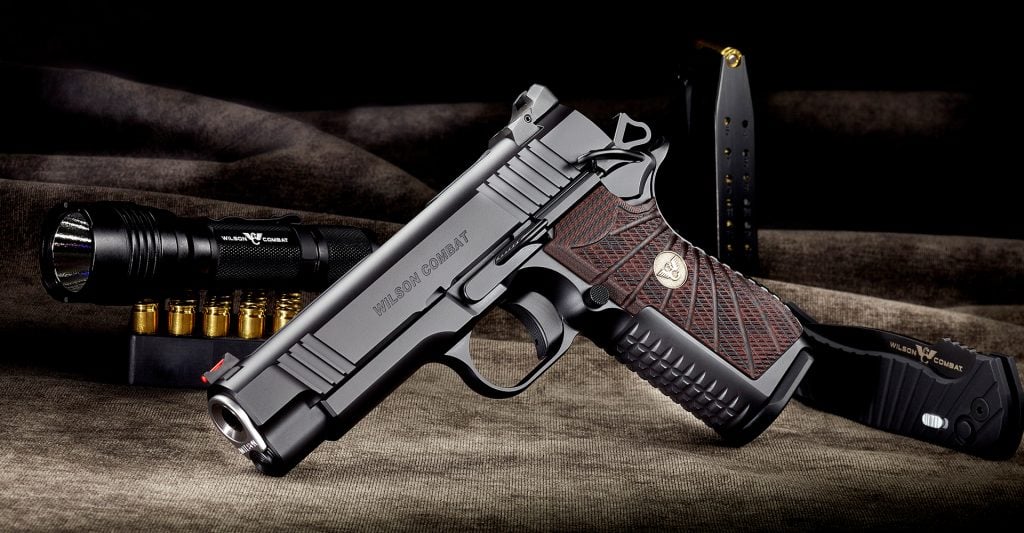 Wilson Combat developed the TRAK texture and its lives on the eXperior compact as well. This sunburst-style grip gives you a nice tight grip that delivers a comfortable but aggressive grip texture.
What you can't see are the WAVE frame rail clearance cuts.
These Wilson Combat proprietary cuts are designed to add a boost to reliability. They hold lubrication and allow the weapon to function when it's full of dirt, sand, and carbon.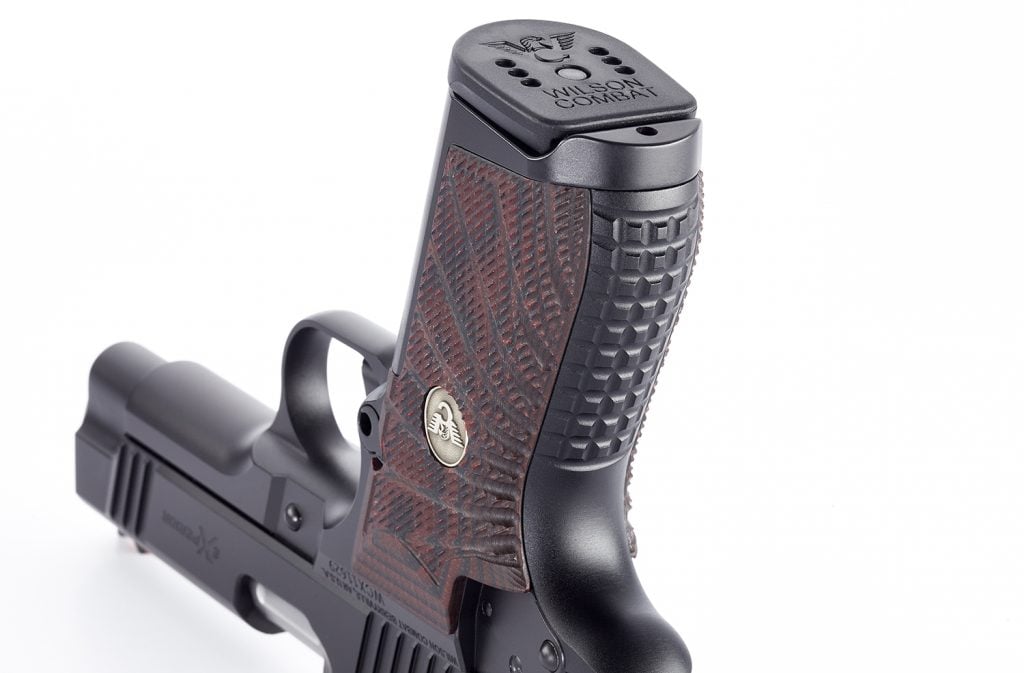 As far as carry guns go, this might be one of the more effective and efficient options for shooters in the double-stack 1911 realm.
Wilson Combat has proven to be winners in the 1911 realm, and the eXperior compact gives you double-stack capacity in a compact platform.
Best for Concealed Carry
3301
at Guns.com
Prices accurate at time of writing
Prices accurate at time of writing
6. Dan Wesson DWX
Wildcards are most often my favorite gun to include on these lists, and this wildcard is one of my favorites of all time.
The Dan Wesson DWX captured my heart and imagination from the moment I set eyes on it.
Dan Wesson is now owned by CZ (CZ owns Colt now, too) and this alliance allows for some neat products.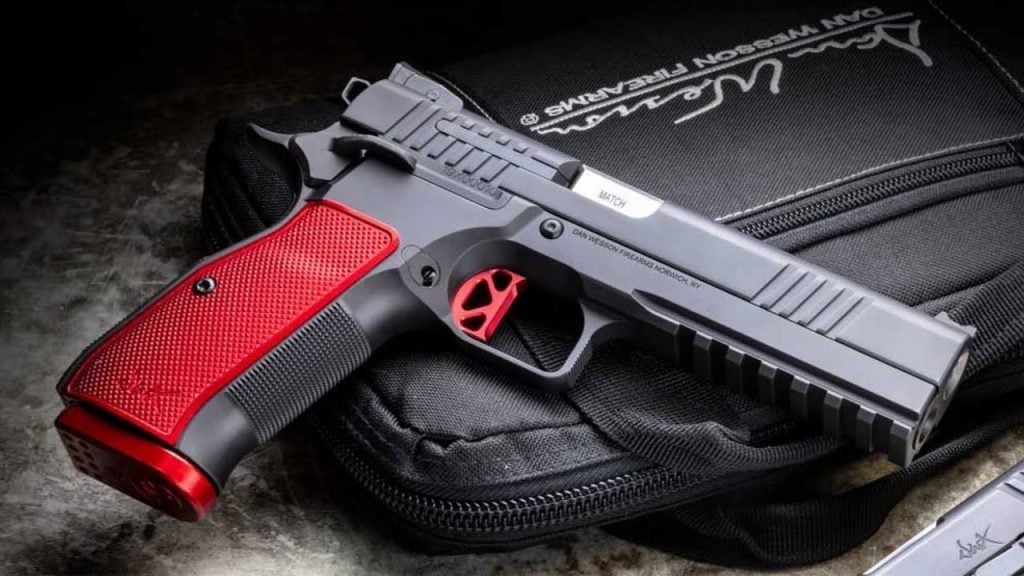 The DWX is a combination of Dan Wesson's innovative 1911 resigns outfitted to a CZ 75 frame.
Both guns are flagship firearms that are legendary in their own right. CZ and Dan Wesson's DWX is not technically a 1911, but it's technically not not a 1911.
CZ 75s typically use 15-18 round magazines, and the DWX makes use of the 75's double-stack frame.
As good as 1911 ergonomics are, the CZ 75's are better. The DWX fits your hand like a well-worn glove.
On the inside, the gun uses a locked-breech barrel instead of the 1911 link system — this design simplifies disassembly for maintenance purposes.
The top of the gun is all 1911. A slab slide 1911 slide mates perfectly with the CZ 75 frame which features a full-length accessory rail.
It is currently available as a full-sized version that utilizes standard P-09/P-10 magazines. A compact version of the gun is expected to release in the near future.
In terms of action, it's all 1911.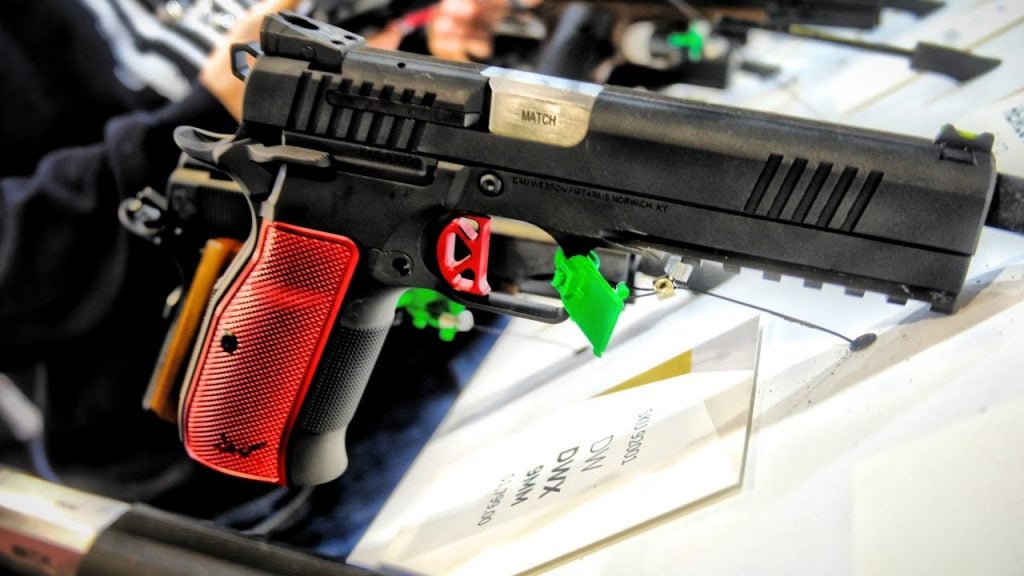 1911s are known for their single-action-only design with crisp triggers and short resets, and that's at play here as well. A light 3-pound break is followed up by a shockingly short and forced reset. This trigger is fast.
Dan Wesson and CZ's little baby is a helluva sweet shooter that makes use of the best parts of two legendary platforms.
(Plus, unlike other double-stack 1911s, the mags are affordable.)
1894
at Kygunco
Prices accurate at time of writing
Prices accurate at time of writing
Final Thoughts
Double-stack 1911s are interesting firearms and exist in a somewhat niche category.
For the longest time, they were relegated to competition guns and rarely saw action beyond that realm. Since then, the industry has grown, and double-stack 1911s are seeing acceptance in all realms.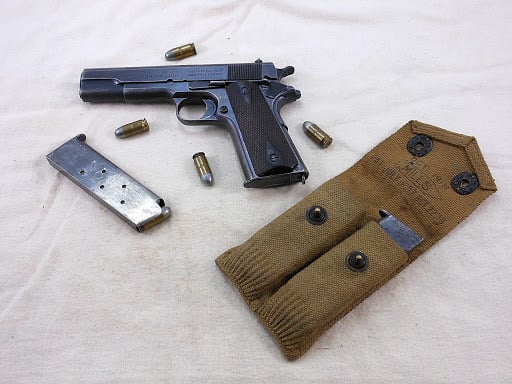 Shooters who like the 1911 for its awesome trigger and ergonomics will enjoy the slightly wider double stacks and the extra capacity — bringing the platform into a more modern world. Although some may think changing John Browning's design is sacrilege…
What say you? Are you a fan of double-stack 1911s? Let us know below. If these are too rich for your blood, check out the Best 1911 Pistols for the Money for some more affordable options!