The 1911 is one of the most legendary firearms in existence.
It's been around since the year 1911 and found its way into wars and conflicts all across the planet. Rock Island Armory 1911 GI Commander
Today, it remains one of the most popular firearms ever produced for a variety of uses.
You can find 1911s for $350 all the way to $4,000 custom guns. It's truly mind-blowing to look and see how much the 1911 varies in price.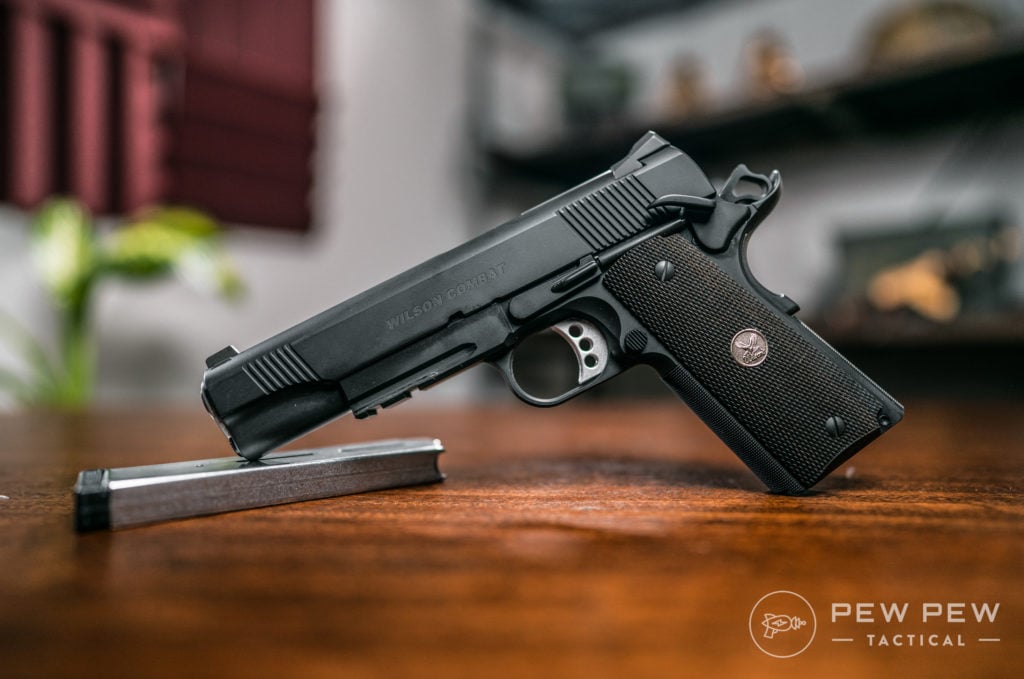 Many of us may not want to spend more than $500-$800 on a 1911. This article is for those people, the people looking for affordable, or dare I say, cheap 1911s?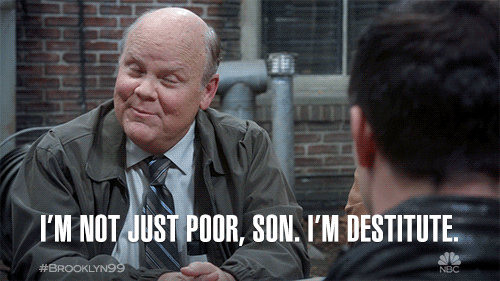 Table of Contents
Loading…
Why You Should Trust Us
Input into this article came from the PPT editorial team and our writers. Together we have a combined shooting experience of 30+ years, including instruction, competition, and multiple shooting disciplines.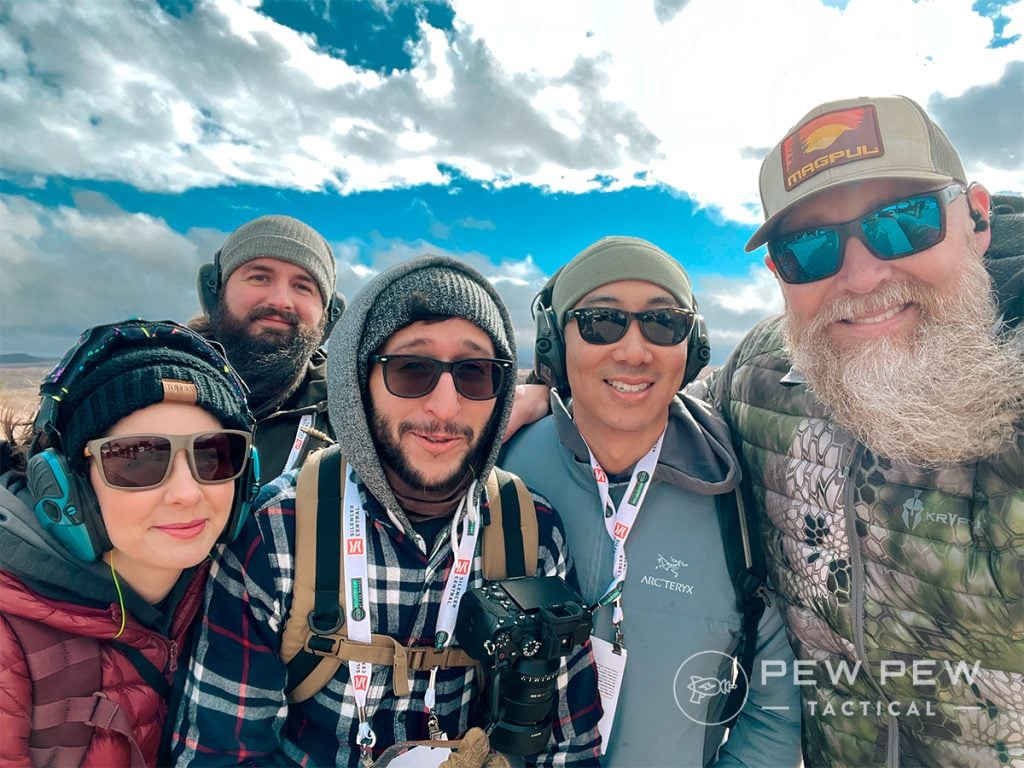 We've spent countless hours researching and analyzing guns and gear to determine which is the best when it comes to features, reliability, ergonomics, and bang for your buck.
We had to make some tough calls. If you don't see your favorite 1911, it doesn't mean we hate it, just that we couldn't include it this time.
What to Expect with a Wallet-Friendly 1911
The 1911 is a cranky platform. But can you blame it? It's over a century old.
Its old-school design came from a time when craftsmanship was a thing. Guns were fitted together versus mass-produced on assembly lines.
Your standard, mass-produced 1911 can have issues…especially when it comes to tight tolerances. This can come in the form of jams, failures to extract, failures to feed specific ammo, and more.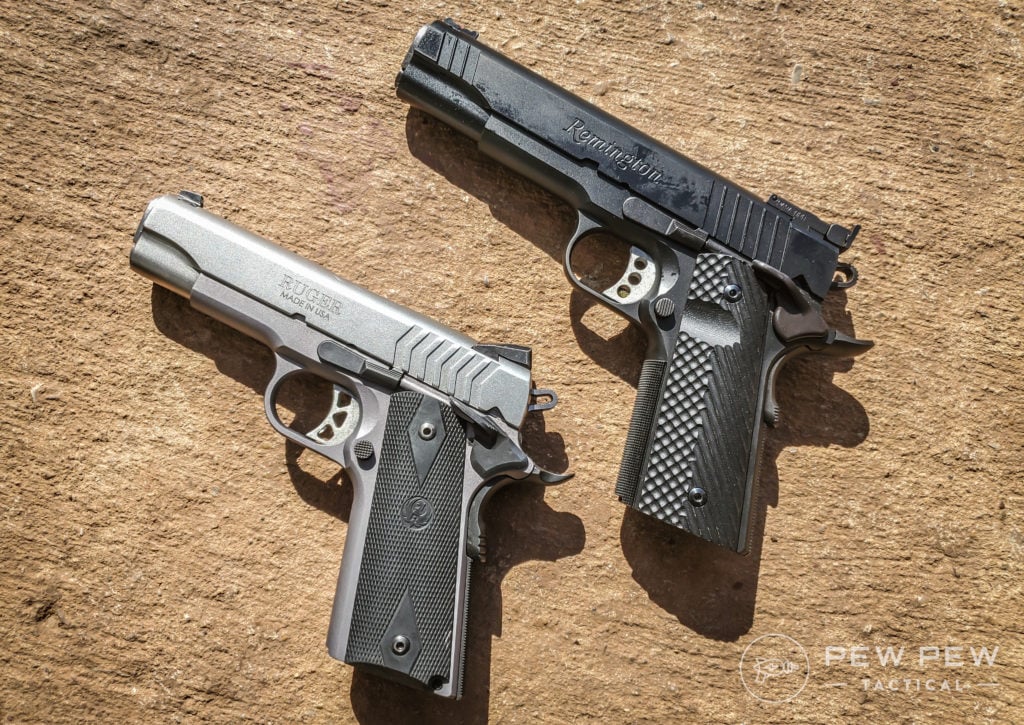 Is this a more significant issue with cheap 1911s?
In our experience no, not really. Between the team here at Pew Pew Tactical, we have handled a good chunk of budget 1911s, and by in large, they run very well.
It used to be that most affordable 1911s were no-frills stripped-down models. But recently, nicer features such as Novak cut sights, ambi-safeties, adjustable triggers, nicer beavertails, and fancy grips are becoming more commonplace on budget 1911s.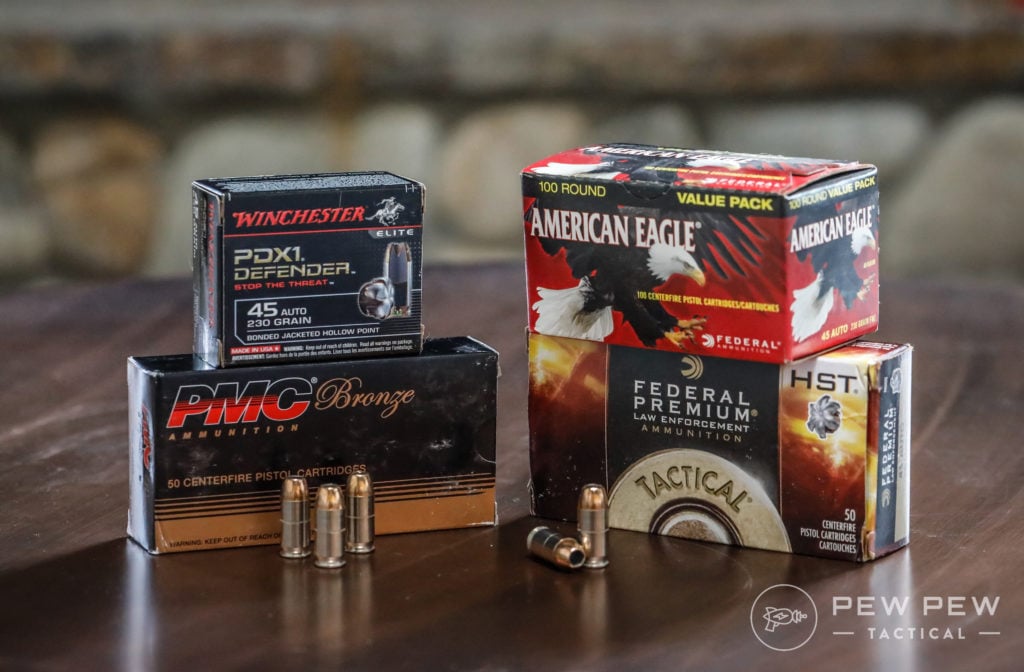 Most will be chambered .45 ACP, but 9mm and 10mm options are becoming increasingly popular. You can usually expect to get a mag or two as well.
Best Sub-$500 1911s
1. Tisas 1911 A1
We are going to come out of the gate swinging with our favorite team pick here — the Tisas 1911 A1.
While Rock Island Armory long held the spot for the best bang-for-your-buck classic GI gun, Tisas has just upped the game.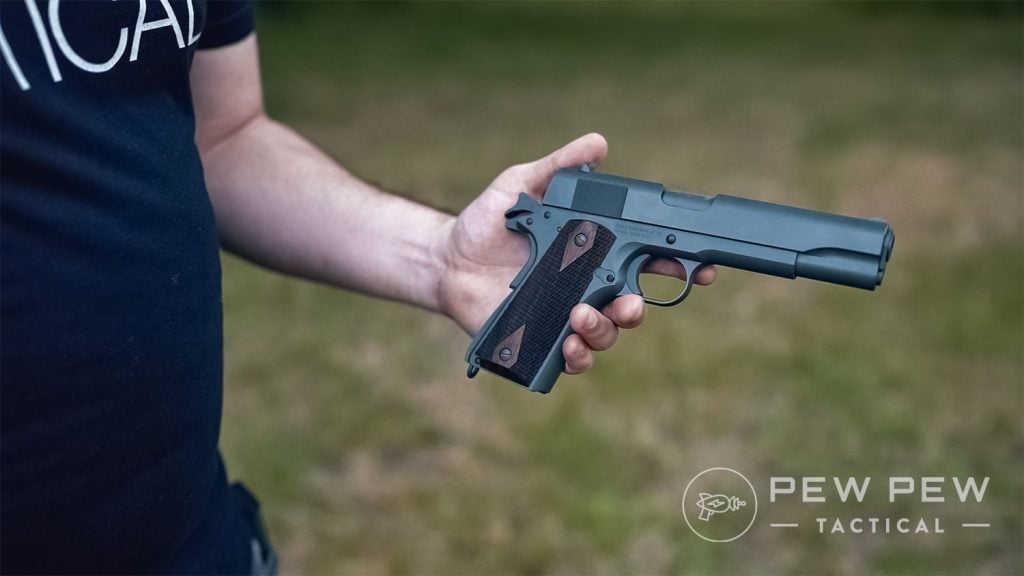 For those that don't know, many entry-level 1911s use the casting process to create their frames and use metal injection molding (MIM) to make small parts like control levers and triggers.
While you can have good casting and MIM parts, forged frames and machined steel parts are flat-out superior. Tisas forges all their frames, and they use zero MIM parts with the sole exception of the recoil spring plug.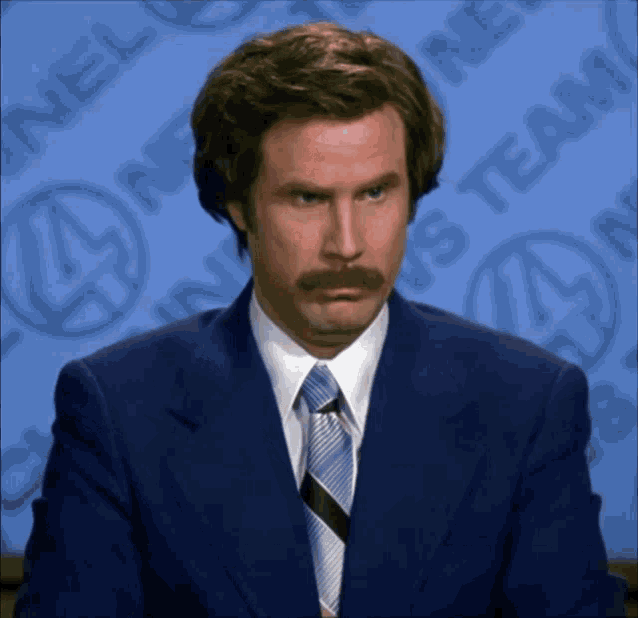 Considering these guns only cost $300-$350, I didn't believe it, but sure enough, it is right on their website!
Aside from that, these GI-style guns have excellent build quality, good triggers, nice finish, and they come with two sets of grips (one plastic, one wood), two magazines, and a barrel bushing tool.
These run exceedingly well and are the best value in 1911s right now and are perfect for those that just want to dip their toes in the pool. It even made it onto our overall best affordable handgun list!
2. Rock Island Armory Standard FS
Rock Island Armory's long-term commitment to providing quality 1911s at a reasonable price is a big part of the reason that other companies have followed suit and the market is as good as it is today.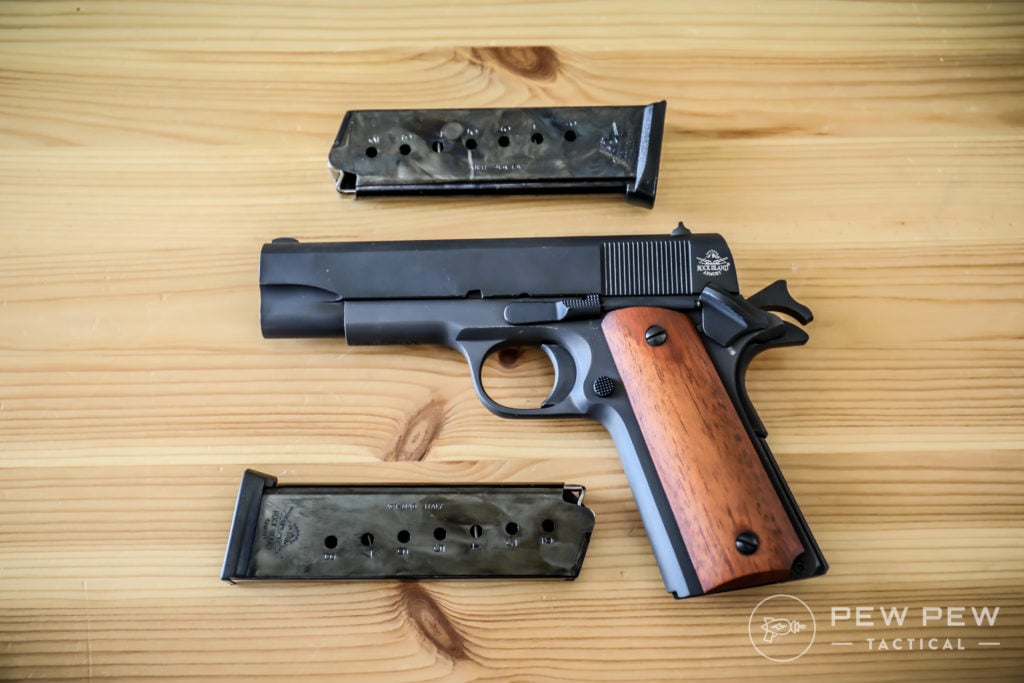 For those wanting to step up from the small GI sights and older-style hammer and trigger, look no further than the RIA Standard FS.
This true "government" model features a skeletonized hammer and trigger, Novak-style sights, an ambidextrous safety, forward slide serrations, an extended beavertail, and G10 grips.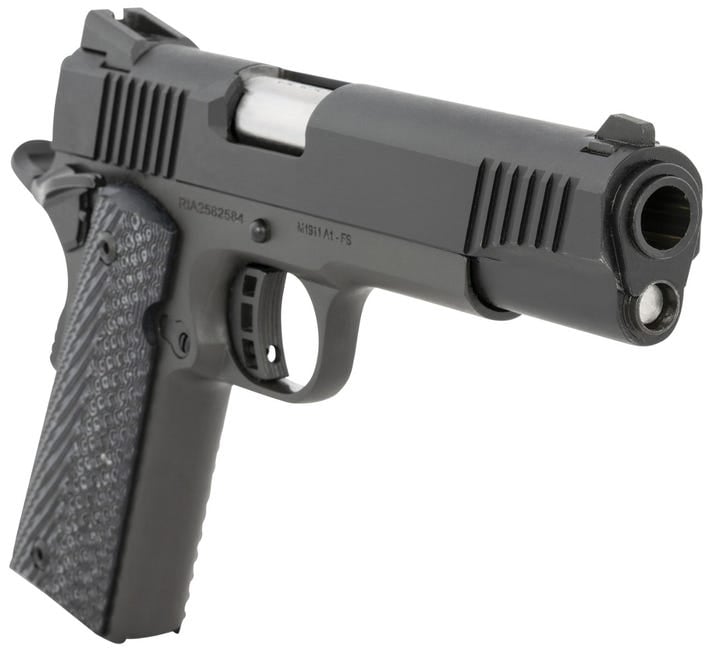 All of this comes in at around $375-$450, making this an excellent choice for those that want a more modern-optioned 1911 without breaking the bank.
434
at Kygunco
Prices accurate at time of writing
Prices accurate at time of writing
You can check our full review of the RIA GI 1911.
3. Tisas 1911 Devil Ray Carry
Tisas once again makes the list with a great offering in their 1911 Devil Ray Carry model.
You get nice, easy-to-see Novak-style sights, forward slide serrations, and the piece-de-resistance, an Ed Brown Signature bobtail frame cut to help with concealability at the grip.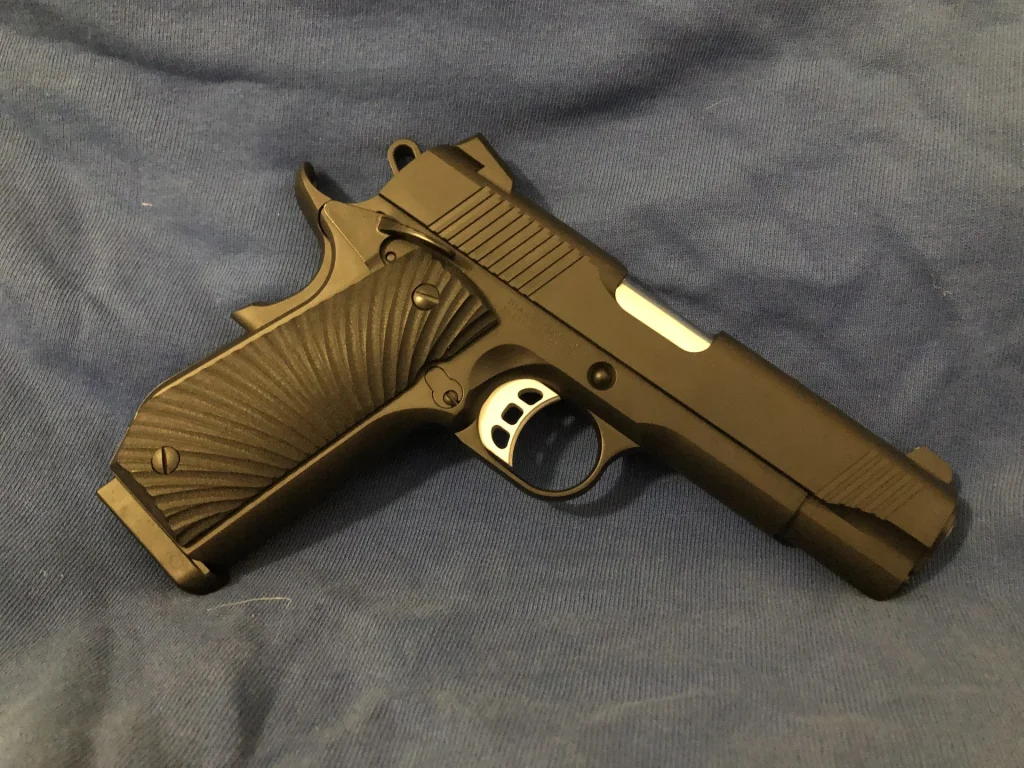 Other features include an ambidextrous safety, extended beavertail, and textured grips with a relief cut for easier access to the magazine release.
Being a carry model means the barrel is 4.25 inches long (commander-length), and the frame is slightly cut with melted corners for easy, comfortable carry.
Coming in at right around $500, the Devil Ray Carry offers a lot of features commonly found on high-end 1911s. Its commander-length slide and bobtail grip profile make this an appealing option for those looking to potentially concealed carry a 1911 on a budget.
Best For Carry
491
at Kygunco
Prices accurate at time of writing
Prices accurate at time of writing
What do you think of the Tisas? Rate it below!
Best Mid-Range 1911s
4. Springfield Armory Garrison
So you want a bit of a step-up maybe in both name and quality, while still staying under a grand? Check out the Springfield Garrison.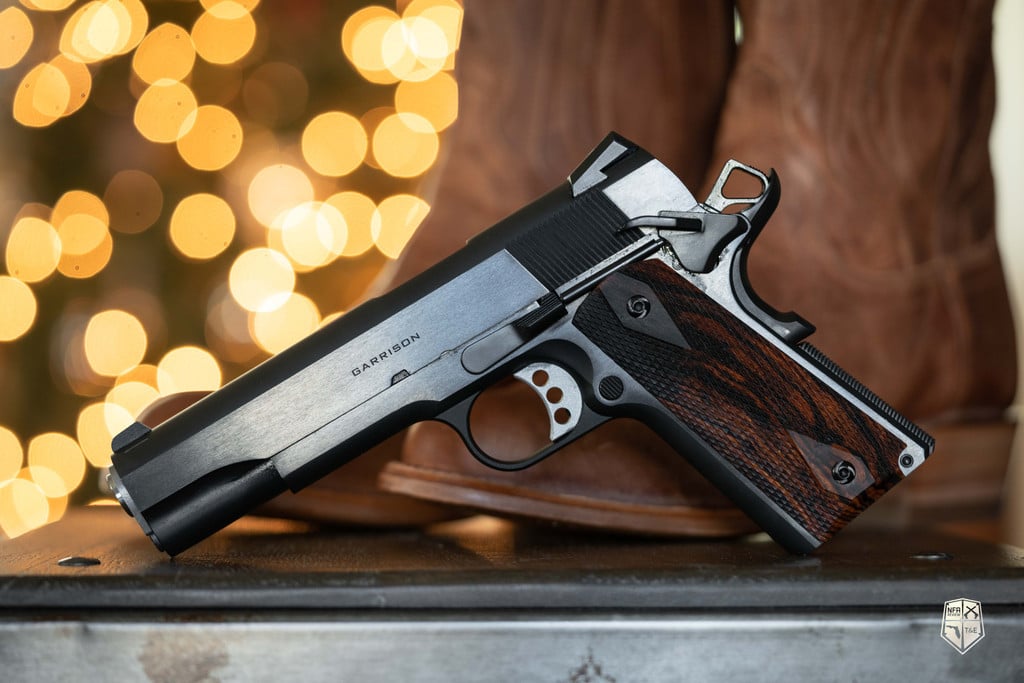 The Garrison is available in either stainless or in an amazing hot salt-blued finish. Features include a 5-inch match-grade barrel, low-profile 3-dot sights, backstrap checkering, and a skeletonized trigger and hammer.
These guns feel more akin to a higher-end $1500 1911, yet they will only set you back about $750-$850 or so. They are available in 9mm and .45 ACP.
You are going to get a beautiful gun with a good trigger that runs well out of the box. This is one of our favorite picks overall.
730
at GrabAGun
Prices accurate at time of writing
Prices accurate at time of writing
5. Fusion Freedom Reaction
Although you may not have heard of Fusion Firearms, they know their stuff.
The company was founded by the former president of Dan Wesson and has been producing frames, barrels, and other 1911 parts for some time.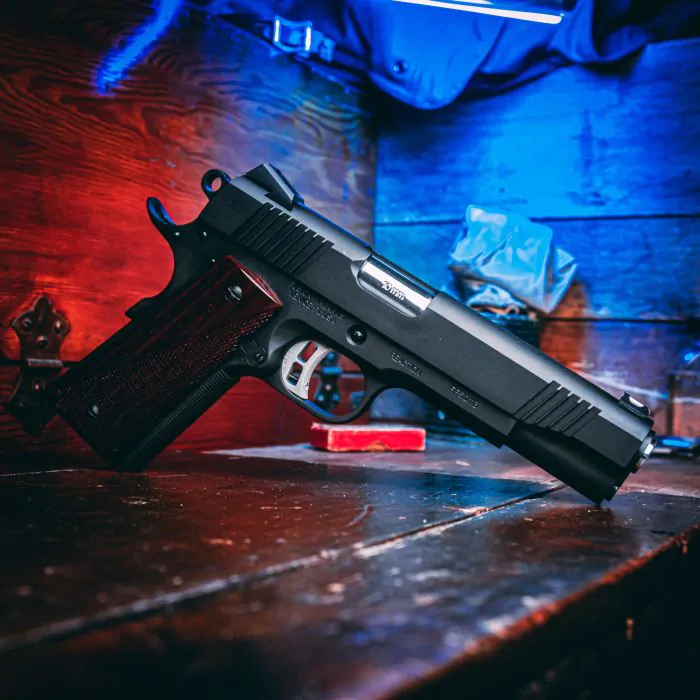 Their Freedom Series Government model includes aggressive front strap checkering, front cocking serrations, fiber front sight, target crowned muzzles, and an excellent trigger.
Even though these do cost a bit more, coming in around $750, the build quality on these is outstanding, and it still very much represents a value-buy.
Tight fitment, smooth coatings, and a lack of machining marks give this gun more of a semi-custom feel rather than a production gun.
679
at BattleHawk Armory
Prices accurate at time of writing
Prices accurate at time of writing
Best Non-.45 Budget 1911s
6. Girsan MC1911 S Hunter
Sometimes you just need to go bigger. And by bigger, I mean both in caliber and size.
Girsan has you covered with their awesome MC1911 S Hunter, a 6-inch barreled long slide 1911 in the heavy-hitting 10mm.
Despite its imposing presence, the price on the Hunter isn't nearly as scary — clocking in at around $600-$650.
An ambi safety, fully adjustable rear "super sight", forward serration, accessory rail, extended beavertail, and G10 grips ensure that the Hunter is ready for both the field as well as delivering a smooth-shooting time at the range.
The overall quality on these is solid, and if you want to get into a big-boy 1911, this is the cheapest way to do it.
Best 10mm 1911
619
at Kygunco
Prices accurate at time of writing
Prices accurate at time of writing
7. ATI GSG 1911-22
During ammo droughts, I lean a lot on .22 LR. I stock it throughout the year and always have a pile on hand, just in case.
.22 is a fun cartridge that's easy to shoot; it's perfect for training, new shooters, and young shooters. Obviously, 1911s in .22 exist, and one of the most affordable is the GSG 1911-22.
This little fella is a simple blowback firearm that tends to cycle reliably as long as it's kept clean.
Unsurprisingly, .22 LR tends to be dirty, so CLP is required to keep the 1911-22 running.
Various models exist with fake suppressors, threaded barrels, rails, ambi safeties, extended beavertails, and more.
These little guys also tend to be extremely affordable, and affordable is the name of the game today.
It's a great stand-in for your centerfire 1911 and grants the gun a much cheaper course of ammunition.
The little GSG 1911-22s are a blast to shoot, fit most standard 1911 holsters, and are compatible with a wide variety of 1911 parts like grips.
On top of that, the 10-round magazines are affordable and easy to find. This is perfect for a budget 1911 and a perfect choice as a fun .22 LR handgun for plinking.
Best For Plinking
267
at GrabAGun
Prices accurate at time of writing
Prices accurate at time of writing
Final Thoughts
The 1911 is a fun platform. An all-metal design, the single-action trigger, and the big ole' .45 ACP (or other cartridges) all come together to make something uniquely American.
And the good news is 1911s don't have to cost an arm and a leg. They certainly can, but you have a ton of different options at almost any price range.
If you are just looking for a fun gun for the range or the collection, I wouldn't hesitate with a more affordable 1911 option.
Do you have any experience with any of these? Are there any we missed? Let us know in the comments! A gun is great and all, but don't forget mags! See our top recommendations at the 7 Best Hunting Shotguns of 2023.