After a brief hiatus within the news cycle, smart guns are once more making their way into the headlines.
There's plenty of support from gun safety advocates, who see smart guns as the cure-all to "gun violence."
Alternatively, there's a lot of opposition from the gun community who see these devices as a backdoor to greater gun control.
Efforts from legislators to mandate smart gun technology haven't proved successful, but could they down the road? What's keeping smart guns off the shelves of American gun shops at the moment?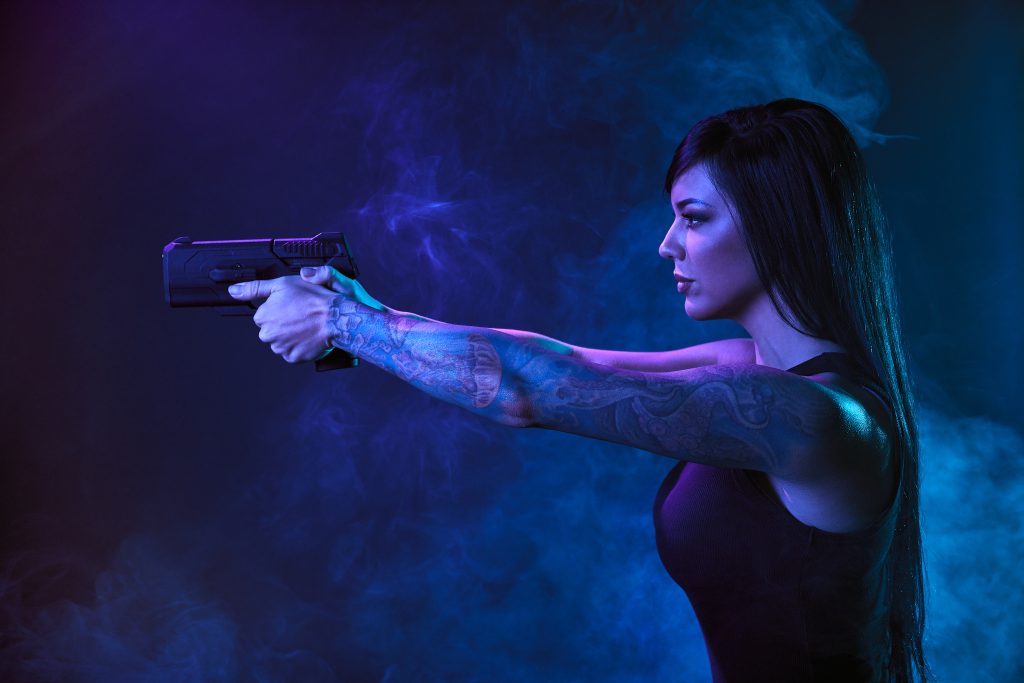 For the informed gun owner, it's well worth taking the time to learn about smart guns and see what this likely means in the future.
With that said, let's explore smart gun technology and the legislative attempts propelling them.
Editor's Note: Article updated with new legislation and smart gun models 5.4.23.
Table of Contents
Loading…
Smart Guns: State of the Art?
Technology is a rapidly changing field.
But the handgrip recognition technology on James Bond's Walther PPK in Skyfall is still at least a few years away.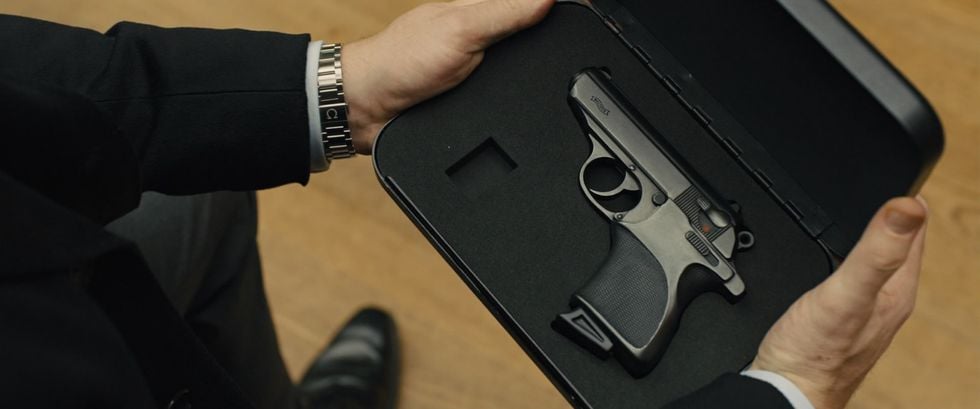 Most smart gun technology isn't quite ready for showtime, but some companies are pushing the envelope, hoping to release working models to the public soon.
So let's take a look at some smart gun options of the past and present.
Fingerprint & Facial Recognition Smart Guns
Biofire
The latest smart gun to hit the market is the Biofire Smart Gun – a 9mm pistol that uses both fingerprint and facial recognition technology.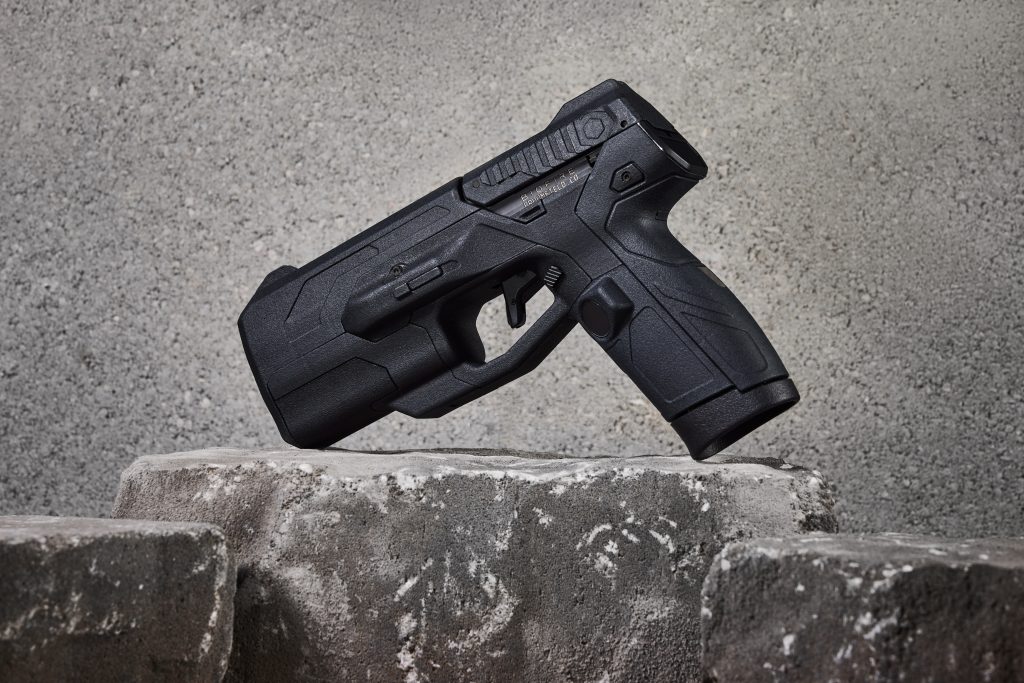 Biofire Technologies is the parent company and says the gun is designed for home defense use.
The Biofire uses state-of-the-art fingerprint tech and 3D infrared facial recognition software to verify the user's identity and prevent unauthorized persons from using the firearm. IR sensors on the grip allow the gun to stay armed while the authorized person is holding it.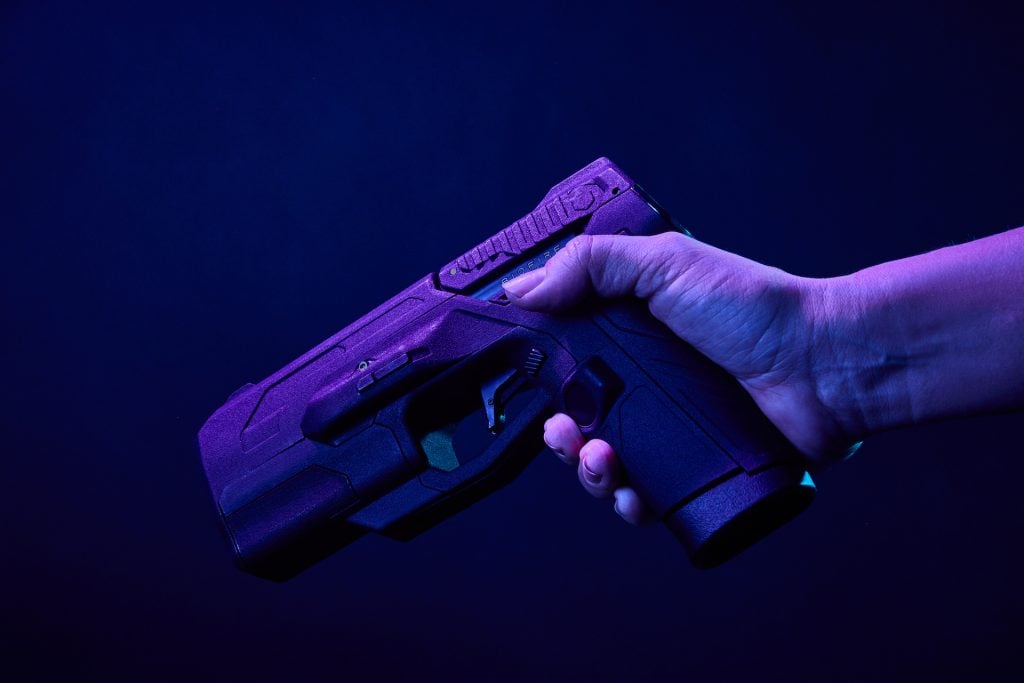 "The Biofire Smart Gun was designed specifically for real gun owners who want a quality home defense firearm that cannot be used by children or criminals," said Mike Corbett, Biofire advisor and former member of SEAL Team 6, in a press release.
"In a few years, I believe that the head of every household in America who wants a home defense firearm is going to choose this Smart Gun."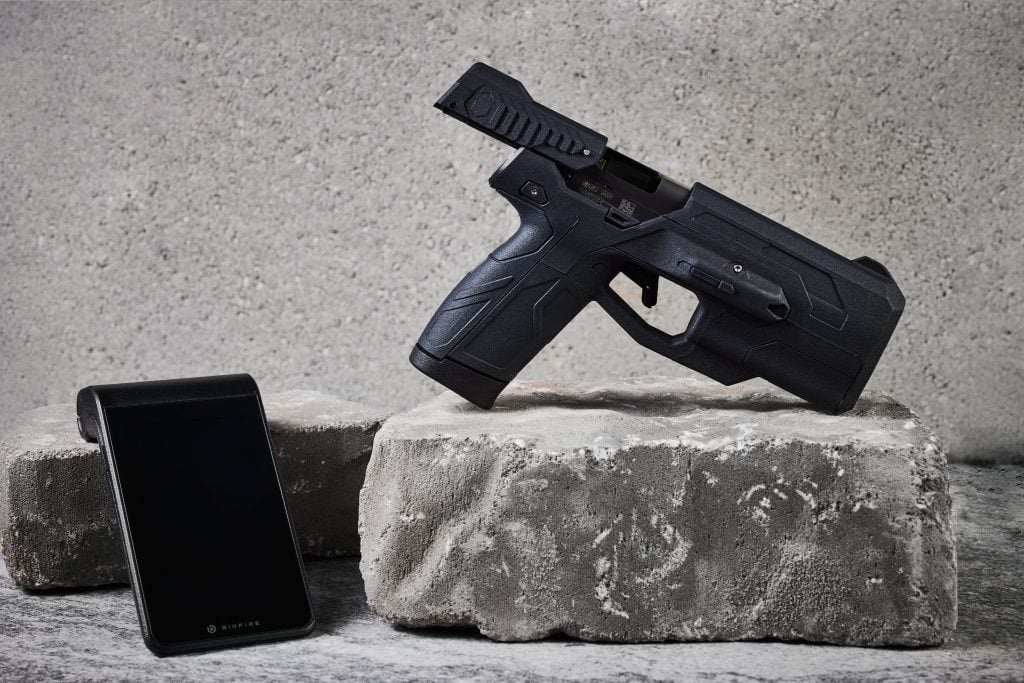 It sports a rechargeable, removable lithium-ion battery that lasts for several months between charges.
Stemming fears of data selling, the company says that no biometric data leaves the gun as it is not equipped with WiFi, Bluetooth, or GPS.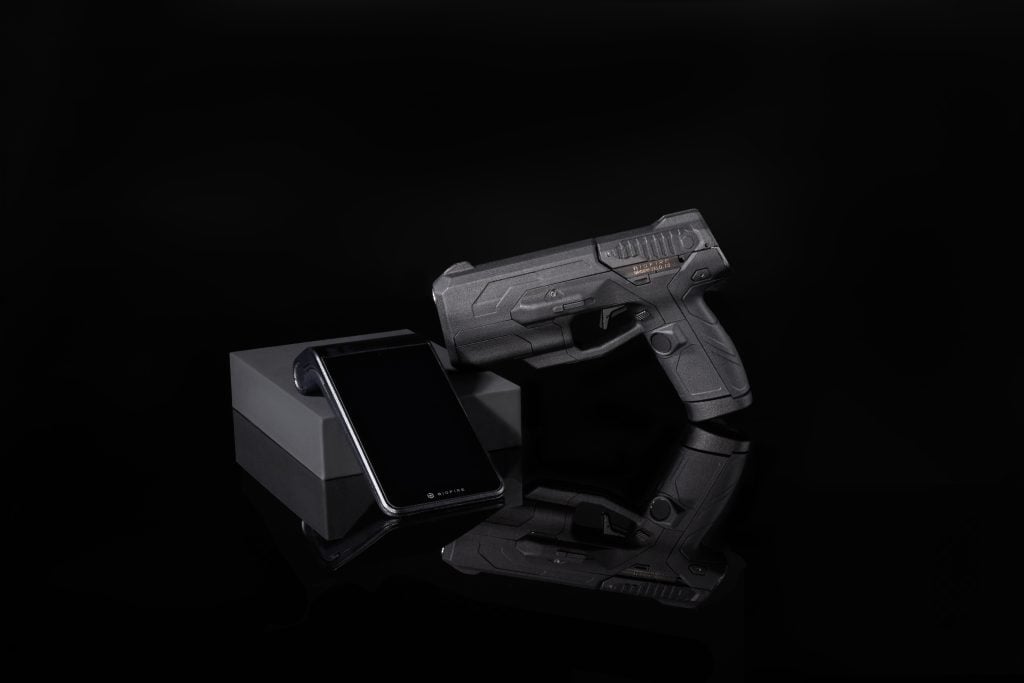 Biofire comes in 64 combinations of trigger, color, and other customization options. It is also available in right-hand and left-hand configurations.
Using a tiered system, the Biofire Smart Gun starts at $1,499 but goes up to $2,499, depending on which series and customizations you make. Initial guns are expected to start shipping in late 2023.
For more on Biofire, check out the video review below from Ian McCollum of Forgotten Weapons.
RFID Smart Guns
9mm 1911 Sentry
In 2021, Kansas-based SmartGunz (now branded Free State Firearms) revealed the Sentry 9mm pistol — a 1911-style smart gun.
This semi-auto handgun utilizes RFID to prevent unauthorized users from using the gun.
It originally was designed to work with a specific chip-enabled glove, but later the company adopted an RFID ring that allows only the authorized user to fire the gun.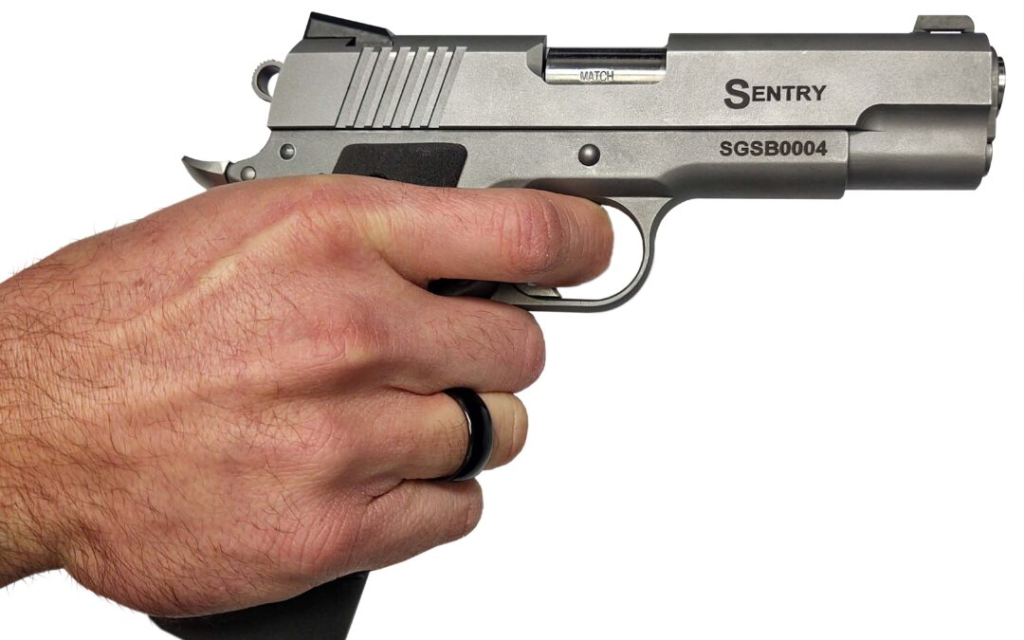 Like the Biofire, the Sentry's data is completely self-contained to prevent hacking or remote disabling of the gun.
It ships with:
One 9mm 1911 Sentry firearm
One Sentry magazine with rechargeable battery power source
One authorization ring (additional rings can be purchased)
One USB wall charger with recharging cable
Storage case
The 9mm Sentry 1911 is expected to start shipping to consumers in Q3 of 2023, with prices starting at $2,495.
(Want a regular 'ole 1911? Check out our recommendations for the Best 1911s.)
Armatix iP1
The OG smart gun is the Armatix iP1, which required the owner to wear an RFID watch to work.
The weapon would not fire if the wristband was more than 10 inches away from the handgun.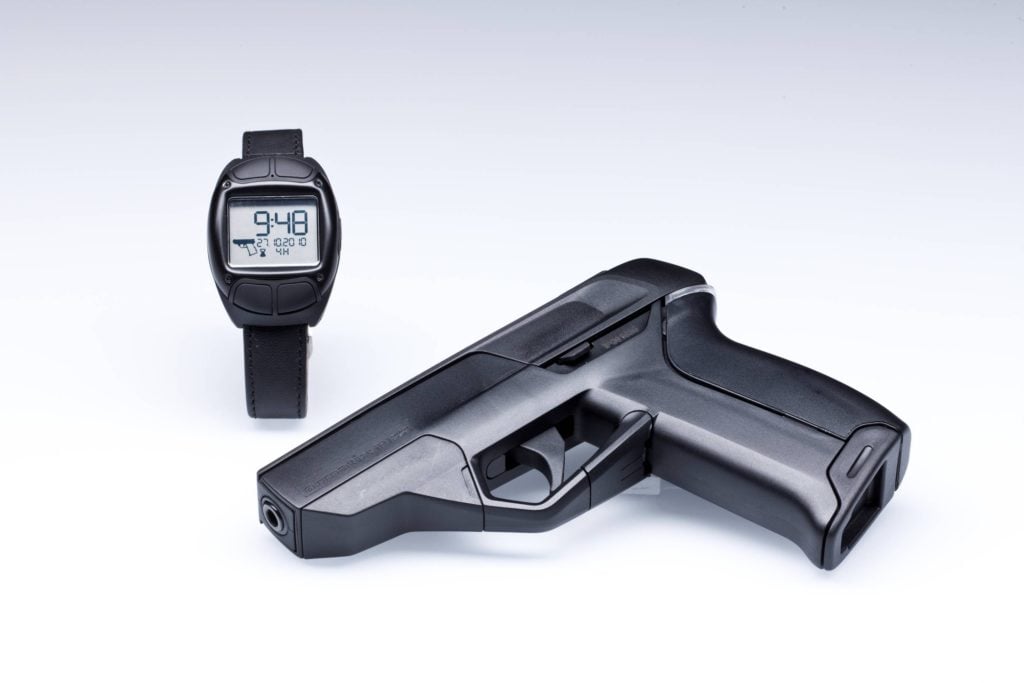 Designed by gunmaker Ernst Mauch, the .22 LR chambered Armatix iP1 was a flop.
If you could find it in store, this smart gun retailed for about $1,800 — $1,400 for the gun and another $400 for the watch — an astronomical price compared to most other .22 LR caliber pistols.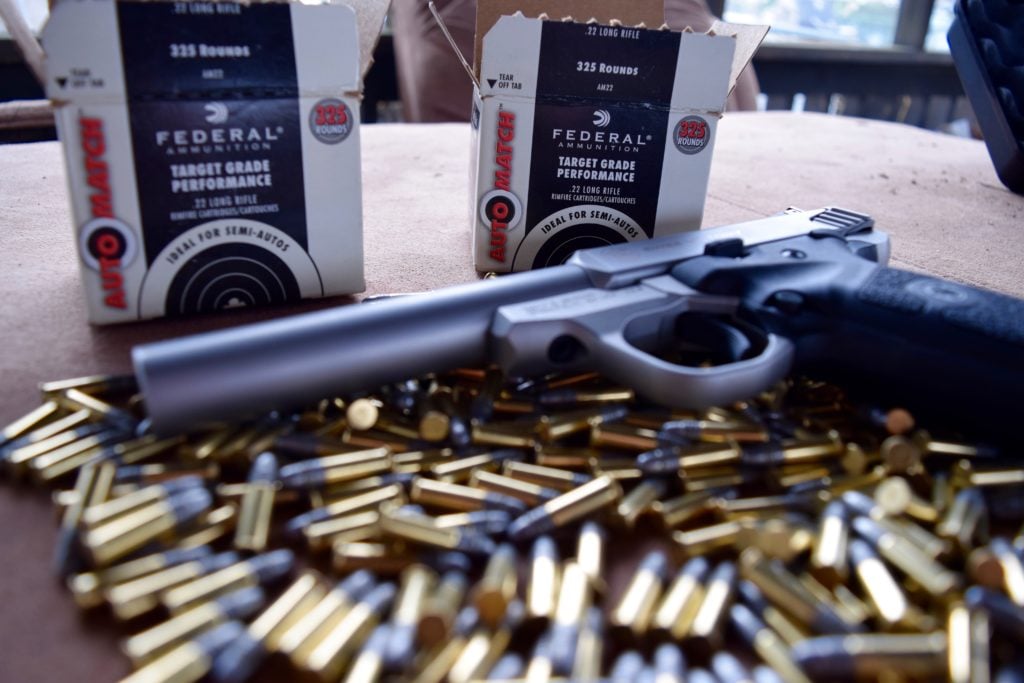 Even more disturbing than the price tag was just how badly made the pistol is…
The iP1 allegedly was one of the worst .22 LR handgun designs in existence.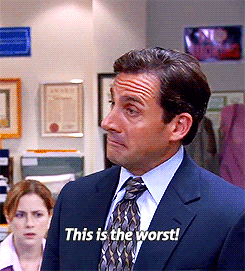 A review of the iP1 by the NRA magazine America's 1st Freedom concluded that it's probably one of the worst pistols in its caliber — ever.
Some of the reviewers' issues with the iP1:
It takes 20 minutes to pair the gun with the watch.
3 to 4 misfires per 10-round magazine were common.
The double-action trigger requires more than 25-pounds of pull.
The recessed hammer prevents shooters from thumbing forward.
Red means "safe," and green means "hot," the exact opposite of firearms safety conventions.
Of course, the reviewers were most concerned by the Armatix iP1's "kill switch" functionality, which allows the gun to be completely disabled and made into a very expensive paperweight from a distance.
Who has access to the kill switch?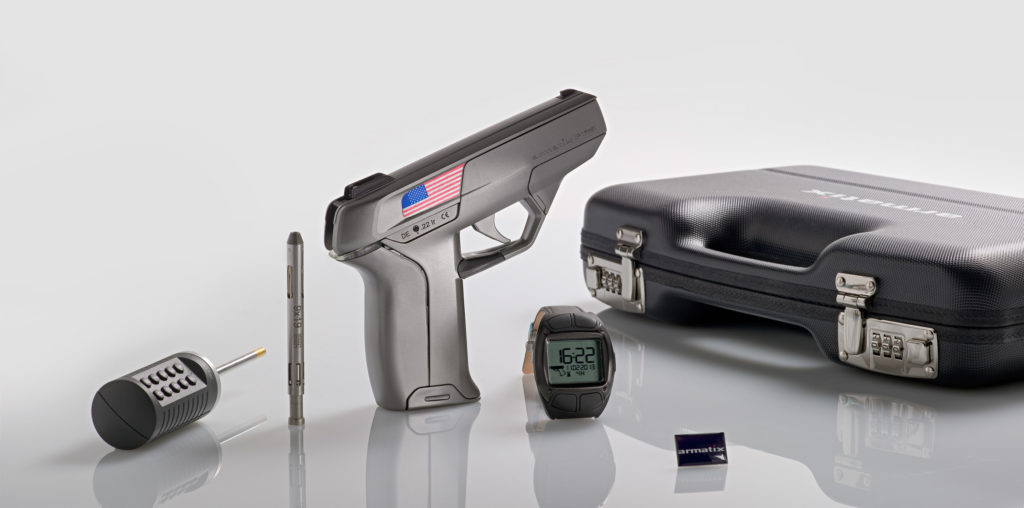 Just the manufacturers but they could be forced to hand that over to the government, and hackers could come up with ways to shut off the weapon remotely.
Among the reviewers' other unanswered questions:
What happens when the batteries fail?
How many rounds can you shoot before damaging the sensitive electronics inside the gun?
How easy is it to hack the RFID connection between the watch and the gun?
TriggerSmart
Another older and now defunct design, TriggerSmart rapidly gained ground within the political world upon its announcement.
This technology utilized a chip to function and will not allow a gun to fire unless it is within 1 centimeter of the gun's sensor.
A specialized ring was worn to engage the sensor, and the whole system was powered by a rechargeable battery that could hold up for about a week.
TriggerSmart could also be disabled remotely through a feature referred to as Wide Area Control. This would permit airports, schools, and other locations to disarm all smart guns within their vicinity.
It appears the company couldn't last and eventually folded.
Smart Guns Legislation
New Jersey seems to be the hotbed for how the nation might tackle smart gun technology.
In 2002, the Garden State passed the Childproof Handgun Bill.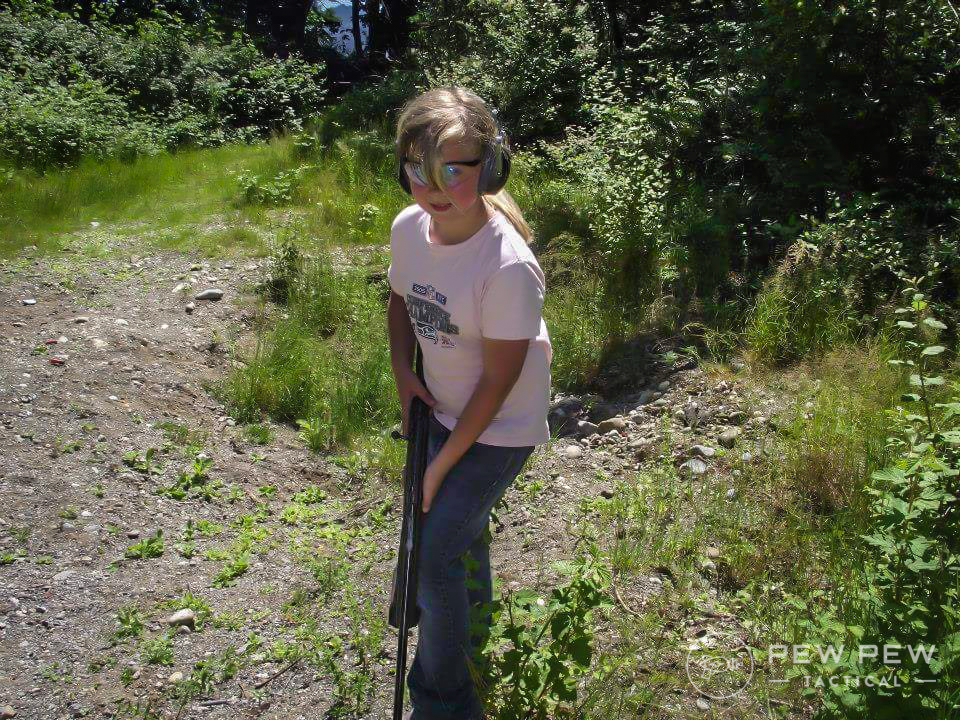 This bill made it so that as soon as a smart gun is released to the American public, within three years, all handguns sold within New Jersey must be smart guns. 
Later, the state said that as soon as the very first smart gun comes to market anywhere within the U.S., gun stores had a 60-day timer to stock at least one smart gun in New Jersey stores.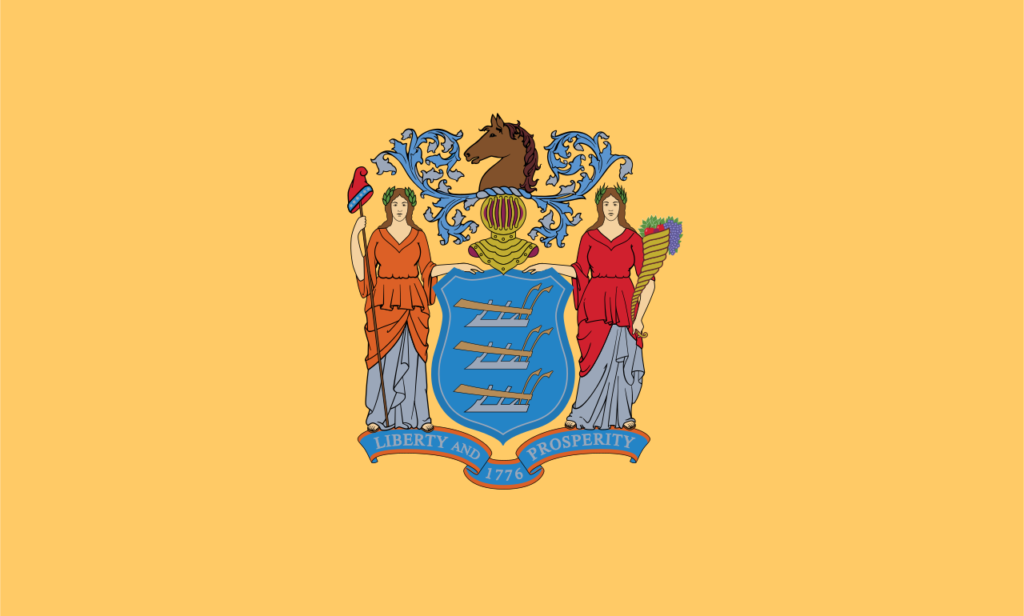 If stores sold out, they would have 21 days to order a new product. If they failed to do so, they would be fined.
New Jersey later backpedaled in 2019, saying gun store owners only had to stock smart guns once they meet "performance standards."
What those standards are will be up to the seven people on the Personalized Handgun Authorization Commission.
HR 1008
In 2020, U.S. Representative Carolyn Maloney (D-NY) introduced HR 1008, also known as The Handgun Trigger Safety Act.
This bill would mandate every new handgun sold in the United States be equipped with the smart gun tech within five years.
HR 1008 also required all handguns sold within America to be retrofitted with smart gun tech within 10 years.
Failure to do so would entail steep penalties. HR 1008 was not approved in 2020 but was reintroduced in 2021, with no movement since.
President Biden & Smart Guns
Perhaps more than any other factor, President Biden's residence within the White House might change how smart guns are approached in the future.
For years Biden served as a proponent of smart gun technology.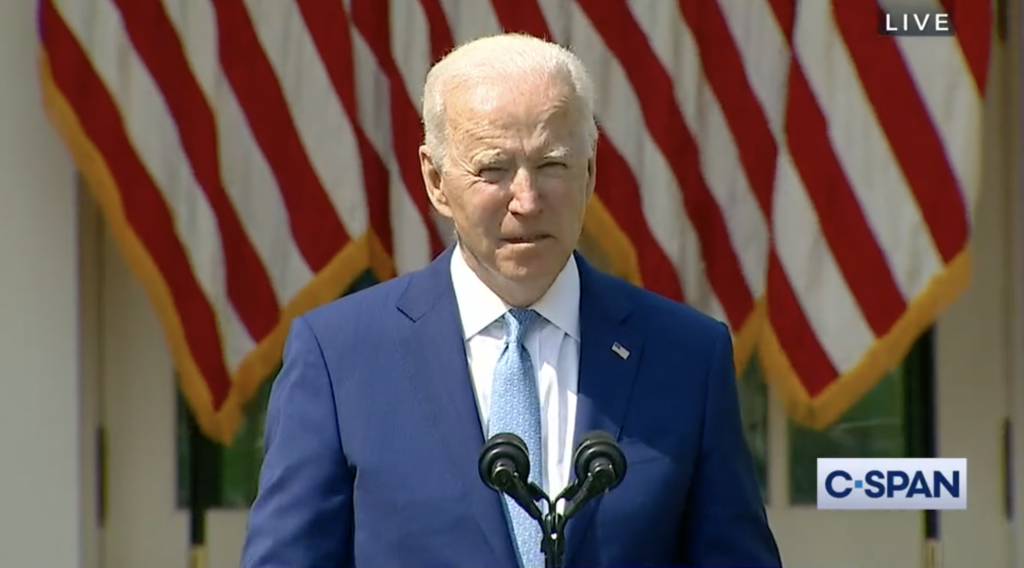 On January 9, 2013, in reference to the Sandy Hook shooting, he said, "…a lot could change if, for example, every gun purchased could only be fired by the person who purchased it…."
"That technology exists, but it's extremely expensive. But if that were available with every weapon sold, there's significant evidence that…may very well curtail what happened up in Connecticut. Because had the young man not had access to his mother's arsenal, he may or may not have did what he did."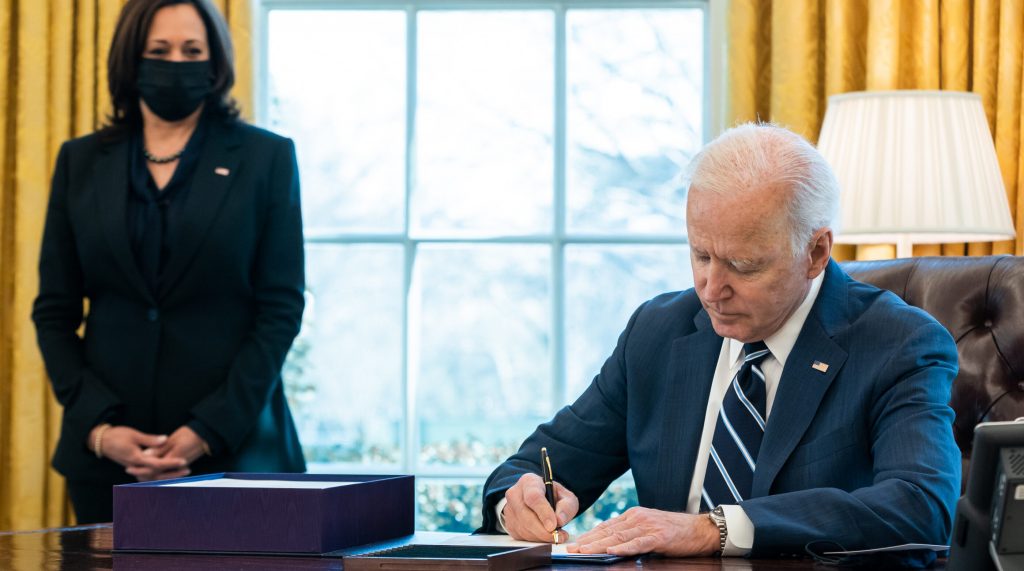 As recent as his 2020 campaign, President Biden said America was experiencing a "public health epidemic" in the form of gun violence. And thus, he felt committed to ensuring the U.S. was "on the path to ensuring that 100% of firearms sold in America are smart guns."
Learn more about President Biden targeting braces and 80% kits with executive actions.  
Can Smart Guns Beat the Statistics?
The pitch for smart guns is pretty straightforward — kids getting their parents' guns and hurting themselves or others; criminals stealing guns from cops and private citizens; and "preventable deaths," at least according to the promoters of smart gun technology.
Though roughly 30,000 Americans are killed in gun-related incidents each year, murder by firearms has been on a steady decline since 2017, according to the FBI.
How many of those deaths could smart guns really prevent?
The vast majority of gun-related deaths and injuries occur when guns are in the rightful owners' hands. (Gun safety, folks, it's important.)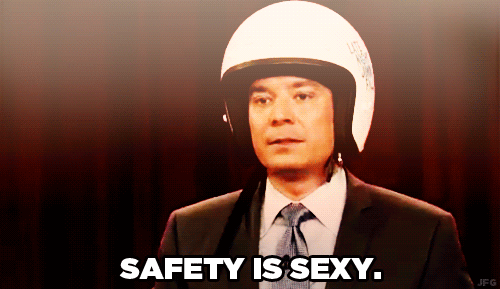 Let's also not forget that technology can fail.
Dry fingers, cold hands, blood, dirt, dust, grime, gloves, and fingerprint residue can all prevent fingerprint-equipped sensors from working.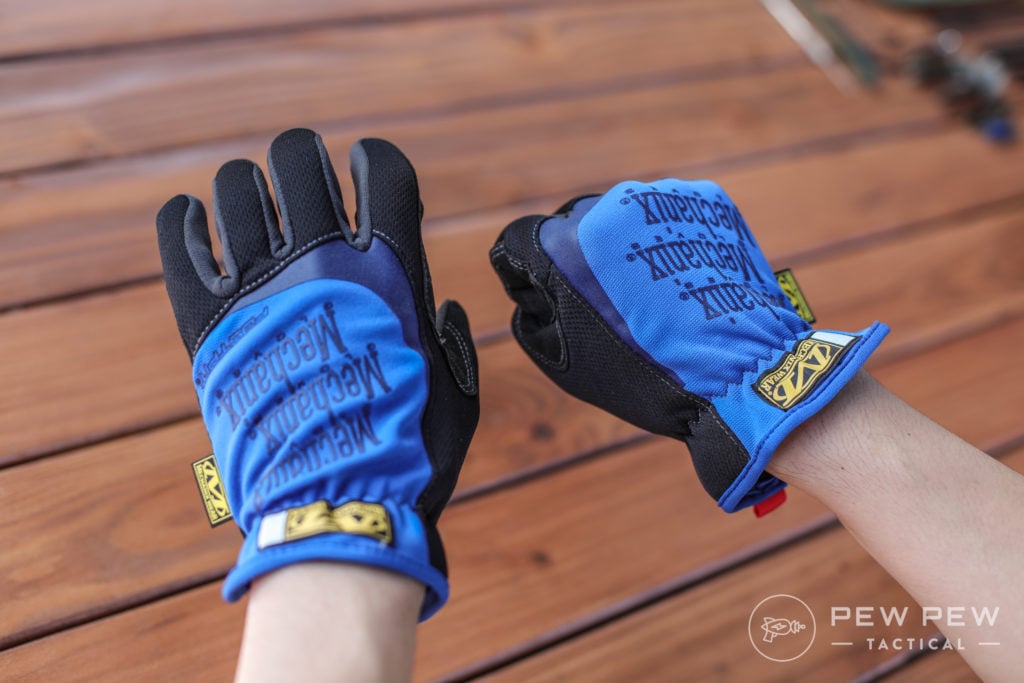 What can be said for self-defense situations? Is it worth the risk?
As for tech that relies on chips or special accessories, what happens when those items get lost or stolen?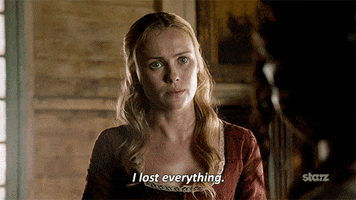 Basically, there are a host of potential issues gun advocates say make the technology risky.
Final Thoughts
The argument for smart guns usually comes down to safety. While the technology has largely proved unsuccessful, new ventures into the tech could change the tide.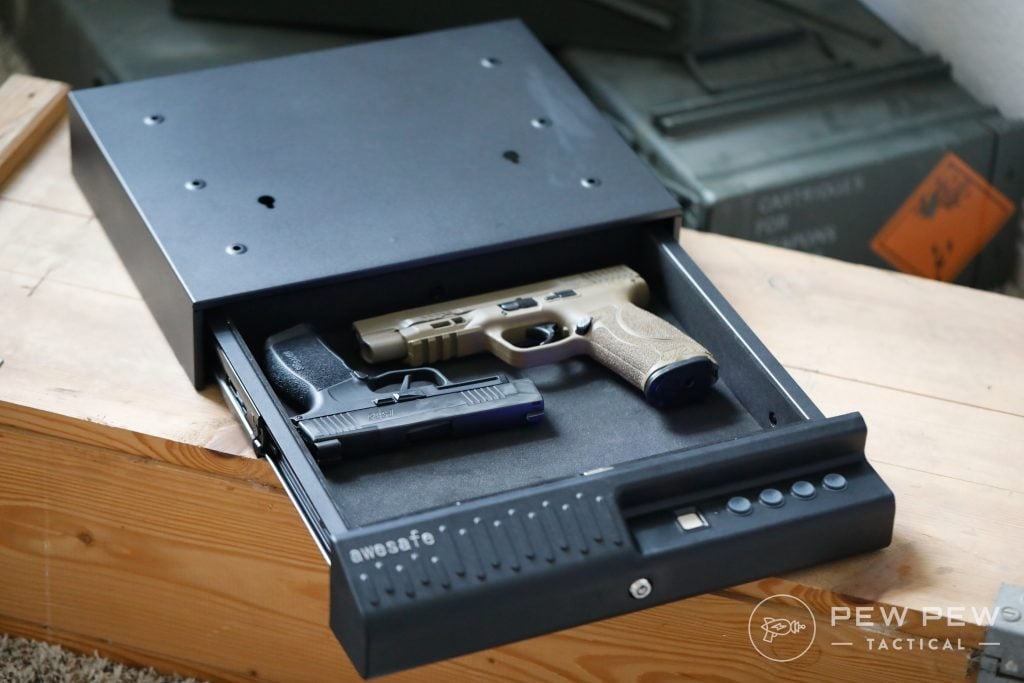 As always, Pew Pew Tactical will keep you up to date on any changes — legislation or product-wise.
In the meantime, use best practices when handling guns, talk to your kids about guns, and store your guns properly. (We recommend storing long guns AND handguns in quality safes when not in use.)
What do you think of smart guns? Let us know in the comments below. For quick access to guns on the go, check out our recommendations on the Best Car Safes.