How can you make a list of the best rifles without it being a 50-page novel?
Well…you can't, but that isn't going to stop us anyway. LWRCI IC-SPR and DI Rifles.
While it is easier to break down best-ofs into different categories, say AR-15s or hunting rifles, sometimes people just want a good ol' fashioned "what do you think is the best overall" type list.
Today, we are taking on that monumental task of trying to condense the best rifles down to a bite-sized list — hopefully without upsetting too many people.
Why You Should Trust Us
Whether it is 3-gun, hunting, cowboy-action, busting clays, or just about any other shooting activity, I am here for it. I am an avid gun collector and shooter with over 200 firearms and two decades of recreational shooting experience.
But at the end of the day, I am also a regular guy. I understand what it's like to tirelessly shop around and find the best bang for your buck so you can put what you saved on one gun toward your next one. I know a thing or two because I've bought a thing or two.
Criteria
So what am I considering the best here? Great question.
This list isn't strictly about budget picks, but it isn't going to be filled with absolute top-of-the-line rifles either. There are a lot of great rifles under $500, and some of the best guns out there cost well over $5000.
The picks on this list are going to equally weigh the value, overall build quality, and performance while also considering things like aftermarket and fun factor.
Ultimately, these are current-production rifles that I feel are solid picks and relatively easy to get while avoiding the extremes of budget or extremely expensive guns.
There are a metric ton of excellent rifles that won't make the list, but sacrifices had to be made in order to keep it short and sweet. So without further ado, let's jump in!
Best Semi-Auto Rifles
1. Daniel Defense DDM4V7
Starting out the list is one of the editorial team's favorite AR-15 rifles…the Daniel Defense DDM4V7.
This is a reliable and accurate AR rifle with some extras that will make most 5.56 fans happy. The QD mounts, threaded barrel, and muzzle brake provide enough incentive that you might convince you to drop $1,900.
But therein lies the downside…the price. Most newcomers are not going to want to splurge on such a rifle starting out; but if you've been down the block or you're just a fan of DD rifles, then the DDM4V7 is worth the spend.
During our time testing it, it ran well and shot smoothly. We had no hiccups so it gets points for reliability.
We did note that heavier loads produced better results on paper, so you might want to keep that in mind when shopping for ammo.
Overall, the DDM4V7 is perfect for those that want a top-of-the-line AR-15. If you have the cash, we say spend it!
Best Free Float Handguard AR-15
1907
at Daniel Defense
Prices accurate at time of writing
Prices accurate at time of writing
For more on the DDM4V7 check out our video review below or the full article.
2. LWRC DI
The LWRC DI is a prime example of an "if you know, you know" rifle.
Those who have handled or shot LWRC rifles know that the quality is there. However, these guns are often overlooked in favor of some higher-priced guns from Daniel Defense, Radian, Geissele, and the like.
Coming in at around $1,500, LWRC's DI line offers a ton of great features. These include a superbly laid out fully ambidextrous lower, a keyless BCG for durability and reliability, an extended charging handle, a lightweight M-LOK handguard, and a spiral-fluted barrel.
Build quality is outstanding on these guns, accuracy is great, and they just feel good. My only gripe is the stock trigger could be better, but that is a fairly easy fix.
1505
at GrabAGun
Prices accurate at time of writing
Prices accurate at time of writing
Editor's note: the PPT team has mixed experiences with the LWRCI DI, so your mileage may vary. Check out our reviews for all the deets: LWRCI DI & IC-SPR and LWRCI DI!
2. Zastava ZPAP M70
This gun was my personal editor's pick in our Best AK-47s article. I have one of these rifles and absolutely love it.
For me, the ZPAP M70 ticks all of the boxes for what I am looking for in an AK. It is reasonably priced (as far as AKs go these days), built like an absolute tank, and has a surprisingly nice fit and finish.
Current M70s feature an RPK-style 1.5mm bulged trunnion for extra strength, chrome-lined barrels, and optics side mounts.
Zastava makes the important parts, like the receiver and barrel, in Serbia. Those parts are sent over, where the gun is then assembled and finished at Zastava's US plant using US parts.
These rifles are put together with care and precision, and it shows. Operation is smooth, and the guns feel robust and shoot well — no canted sights or rattly mag wells here.
Best AK-47
979
at GrabAGun
Prices accurate at time of writing
Prices accurate at time of writing
Note that these are "Yugo pattern" guns, so standard AKM furniture won't fit. However, there is plenty of aftermarket for Yugo pattern rifles these days, so don't sweat it too much.
3. PSA Gen 3 PA-10
I am bending my own rules a little here, but not as much as it might seem.
Palmetto State Armory is widely known as the champion of budget-minded folk. This holds true with their Gen 3 PA-10.
AR-10s used to be a $1000+ proposition no matter how you sliced it, but the PA-10 challenged that notion. But budgets aside, these are just great rifles.
You can get this battle rifle with an M-LOK rail, enhanced polished 2-stage trigger, Magpul stock, adjustable gas block, and a stainless barrel, all for $650-850.
On top of some excellent features, these rifles tend to produce near MOA accuracy with basic ammo and sub-MOA accuracy with the right loads. That is outstanding performance regardless of price.
Many "next tier" rifles require you to build your own or spend an extra $400-1000, making the PA-10 appealing. This rifle is tough to beat if you are looking for an off-the-shelf, solid, heavy-hitting semi-auto.
You can peep our complete review here!
Best Bolt-Action Rifles
4. Bergara B-14 HMR
Bergara has been making barrels for decades but only started making rifles in 2012. The fact that their guns have made it onto so many of these types of lists is a testament to their quality.
Their B-14 HMR (Hunting & Match Rifle) is the ultimate do-it-all rifle. They set out to create a gun that is equally at home in a deer blind as it is on the 1000-yard range.
Well, they succeeded. Much of that is due to their excellent barrels and the tried-and-true Remington 700 pattern action.
You also get a well-designed stock with QD sling slots, an adjustable length of pull and cheek riser, and a mini-chassis for bedding. These rifles also come with threaded barrels and accept standard AICS magazines.
Users also get a sub-MOA accuracy guarantee and a selection of seven different calibers.
Overall, this is one of the best all-around options in the bolt-action market today.
5. CZ 600 Lux
Sometimes people just want a basic hunting rifle but want something with a little bit of elegance and class. Enter the CZ 600 Lux.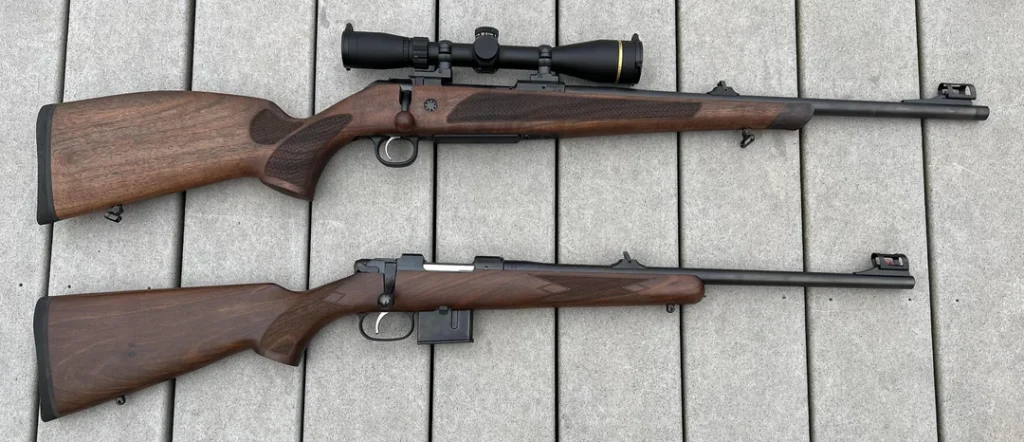 With breathtaking lines, a beautiful walnut stock, and iron sights, you get just that. Heck, even the bolt handle is wood — talk about fancy!
CZ has made great bolt-action guns for some time, and the 600-series is the newest evolution in their lineup. These rifles are accurate, sleek, and well-built.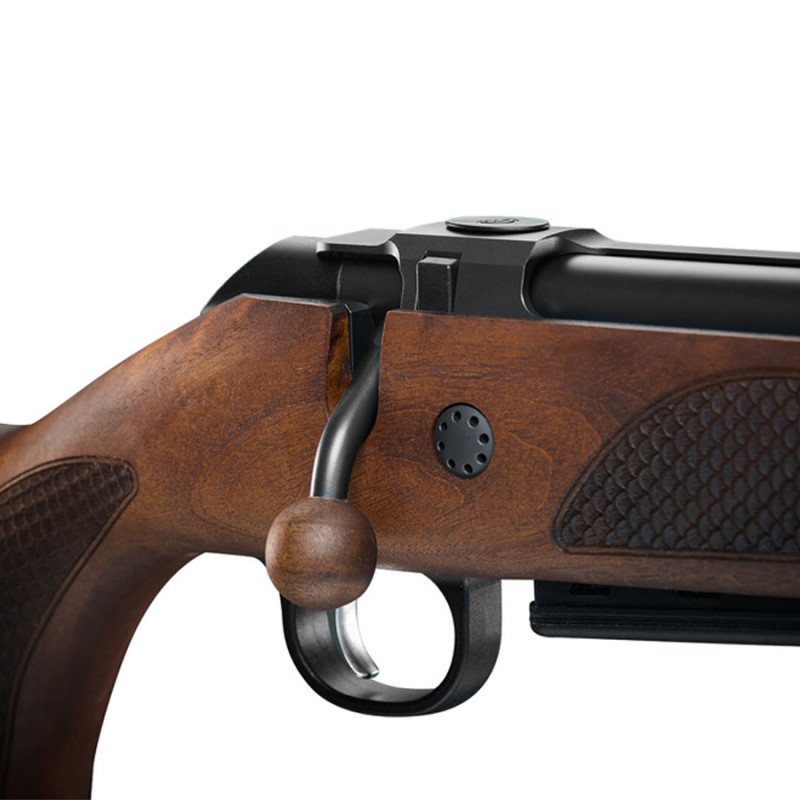 Other great features include generous grip and forend checkering, a fiber optic hooded front sight, a threaded barrel, and a detachable box magazine.
While the Bavarian styling might scream expensive, these rifles manage to come in under $1000.
909
at GrabAGun
Prices accurate at time of writing
Prices accurate at time of writing
The 600 Lux is available in .223 Rem, .308 Win, .30-06, and .300 Win Mag. Each rifle also comes with a sub-MOA guarantee to ensure they shoot as good as they look.
Best Lever-Action Rifles
6. Marlin 1895 SBL
Whether you are hunting polar bears, buffalo, t-rexes, or just goofing around, the Marlin 1895 SBL is a good companion.
With Ruger's recent acquisition of Marlin, production of some of the classic Marlin rifles has started up again. The recent resurgence and popularity of the 45-70 Govt. cartridge ensured the 1895 was the first in line.
A stainless finish and grey laminate stock combo make for a badass-looking gun. A spiral-fluted bolt makes for a smoother action, and this rifle is set up with a 19" barrel and has a generous Picatinny rail for optics mounting.
Other features include a slick ghost ring rear-sight and tritium fiber front-sight setup and a threaded barrel for those who want to mount a muzzle brake or a suppressor.
At the end of the day, the 1895 SBL is the definitive 45-70 lever gun right now. It's hot, it's cool, it's hip, and all your friends will be jealous.
7. Henry Long Ranger
This one might be a bit of a curveball, especially for you purists out there.
The Henry Long Ranger isn't just a lever-action rifle; it's a box-magazine-fed lever-action rifle. This means you can use modern Spitzer bullets.
Available calibers include .223 Rem, .243 Win, 6.5 Creedmoor, and .308 Win. These choices mean the Henry Long Ranger is a formidable and versatile hunting platform for those who want something other than a bolt-action or an AR.
I have one of these in .243, and man, is it sweet. A relatively smooth action is paired with a crisp trigger, and the gun is superbly balanced and quick handling.
On top of how well it points, I can get .75 to 1-MOA accuracy out of mine with relative ease. These guns are slim, accurate, and just flat-out cool.
969
at GrabAGun
Prices accurate at time of writing
Prices accurate at time of writing
While it may not be traditional, the overall feel and performance make this one of the best lever-action rifles on the market today.
What do you think of the Long Ranger? Rate it below!
Readers' Ratings
Be the first to rate this!
Best Rimfire Rifles
8. Ruger 10/22
Undefeated, undisputed — the Ruger 10/22 remains the crown king of rimfire rifles.
There isn't much to say here that hasn't already been said, but I will go ahead and say it anyway.
A simple blowback semi-automatic action, rotary magazines of varying capacities, and an intuitive and reliable overall design have made this gun a staple in the shooting world for decades.
This is evidenced by the fact the 10/22 enjoys one of the largest aftermarkets of any weapon ever created. Seriously, you can get anything you want for these guns!
You can get walnut-stocked models, threaded tactical models, takedown models, and everything in between. The 10/22 offers something for everyone and has a lower price point that makes it easy to get into.
Best Rimfire Rifle
298
at Kygunco
Prices accurate at time of writing
Prices accurate at time of writing
You simply can't go wrong by getting one.
9. Tikka T1x MTR
Those looking to shoot on the cheap with .22 LR but still want to squeeze some precision out will be well-served by the Tikka T1x MTR.
Built upon the ultra-proven bolt-action T3x platform, the T1x scales everything down to a 10+1 capacity .22 LR rifle that is available with either a 16 or 20-inch barrel.
Southpaws will also be happy to hear that the T1x is available in a left-handed version.
A stainless steel bolt, detachable magazine, and threaded barrel ensure you won't be hurting for features. Once you find a type of ammo the rifle likes, you can expect around 1 MOA accuracy at 100 yards — not bad for a rimfire.
539
at Gunprime
Prices accurate at time of writing
Prices accurate at time of writing
These guns are priced well, feel good, and have performance to match.
Final Thoughts
Making a list this small and trying to fit everything in is a tall order. Keep in mind these are just my personal picks, and there are a ton of great rifles out there that could make this list.
These are meant to represent guns with good build quality, value, and performance, that are worthy of universal recommendation.
Do you have any experience with these rifles? Are there any that you would include? Let us know in the comments below! Be sure to check out our other best-of articles, like the A Picture from History: The Sinking of the Lusitania!